26 February 1929 – 15 December 2014
It is with great sadness that we announce the death of Professor Donald Metcalf AC, an outstanding medical researcher whose discovery of colony stimulating factors has benefited more than 20 million people worldwide.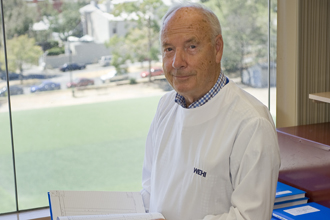 Professor Metcalf joined the institute in 1954 as a young medical graduate, supported by Cancer Council Victoria's Carden Fellowship, an award he held until his retirement in December 2014.
Professor Metcalf's studies of how blood production is controlled led to his speculation that there must be a biological mechanism – one or more hormones – that controlled white blood cell production. These substances, which he termed colony stimulating factors (CSFs), were the focus of more than 50 years of research. Over this time, Professor Metcalf led researchers to characterise and purify four separate CSFs. Professor Metcalf recognised that CSFs had a potential role in clinical medicine, and his team was among the first in the world to discover the genes for CSFs.
Professor Metcalf was a central figure in the international clinical trials of CSFs in the 1980s, assessing whether CSFs could boost immune cell numbers in cancer patients whose immune system was weakened as a side effect of the chemotherapy, leaving the patient susceptible to infection. On the basis of these studies, G-CSF (Neupogen) was approved for clinical use in 1991.
An estimated 20 million people have now been treated with CSFs. As well as boosting the immune system in people treated with chemotherapy or with other immune deficiencies, CSFs have revolutionised blood stem cell transplantation. CSFs also contribute to other diseases such as rheumatoid arthritis, and medications that block CSF function are now entering clinical trials.
Within the institute, Professor Metcalf was a mentor to hundreds of young researchers who worked with him, and an inspiration to thousands of scientists around the world. Among his many honours and awards were the Companion of the Order of Australia (1993), the Albert Lasker Award for Clinical Medical Research (1993), the Gairdner Foundation International Award (1994), the Royal Medal of the Royal Society (1995), the Victoria Prize (2000) and the Prime Minister's Prize for Science (2001).
The Walter and Eliza Hall Institute community offers its sincere condolences to Professor Metcalf's wife Jo, daughters Kate, Mary-Ann, Penelope and Johanna, grandchildren James, Martin, Patrick, Elizabeth, Rose and Robert and their extended families.
Gifts in memory of Professor Metcalf can be made to the Metcalf Scholarship Fund.
Further information:
Liz Williams
Media and Publications Manager
P: +61 428 034 089
E: williams@wehi.edu.au