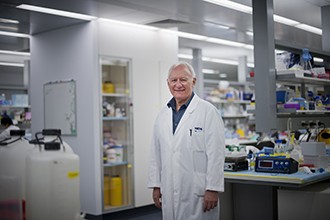 Diabetes researcher Professor Len Harrison has been awarded the 2013 JDRF Lifetime Research Achievement Award for his research to improve treatments for people with diabetes, or prevent its development.
The JDRF Lifetime Research Achievement Award recognises the long-standing nature and high quality of contributions of the very best Australian researchers who have steered global directions of type 1 diabetes research.
Professor Harrison, who is a researcher from the institute's Molecular Medicine division and clinician at The Royal Melbourne Hospital, was presented with the award last night at the International Congress of the Immunology of Diabetes Society in Lorne, Victoria. Professor Harrison said he felt very priviledged to be recognised in this way.
"As we know type 1 diabetes is increasing in Australia, and I'm grateful for community support, and the support of the JDRF, to continue to find new and better treatments for people with diabetes, and develop ways of preventing or delaying the onset of diabetes," he said. "Medical research is a team effort and I would like to acknowledge everyone involved in the research that has earned this generous award."
Head of JDRF's Research Development Dr Dorota Pawlak said Professor Harrison's leadership and guidance has played a vital role in recognising Australia as a major global hub for type 1 diabetes research.
"Professor Harrison's career has spanned exceptional achievements in understanding the mechanisms of immune tolerance, advancing antigen specific therapies and defining paradigms for factors that contribute towards the development of type 1 diabetes," Dr Pawlak said.
"His lifelong work to understand autoimmunity in type 1 diabetes and pioneering work in the prevention of the disease has significantly accelerated research progress towards JDRF's mission to cure type 1 diabetes and its complications. It has provided great hope for better therapies and treatments for people living with type 1 diabetes every day."
Professor Harrison's major research interests are immune regulation and immune therapies, applied to type 1 diabetes. His achievements are documented in 500 clinical and basic research publications and several patents. His awards for research include C.J. Martin Fellowship, Wellcome Australia (Glaxo) Medal, Susman Prize (Royal Australian College of Physicians), Kellion Medal (Australian Diabetes Society) and Rumbough Award for Scientific Excellence (JDRF).
Further information:
Liz Williams
Media and Publications Manager
M: +61 405 279 095
E: williams@wehi.edu.au
Lyndal Howison (JDRF Australia) 
M: +61 411 110 717