Walter and Eliza Hall Institute researchers have developed a new system for growing breast tissue in the laboratory, a development that has the potential to improve how the development and function of the breast can be studied.
The new technique enables breast 'organoids' – clumps of tissue the size of a grain of sand – to be cultured from single cells extracted from breast tissue.
Mr Paul Jamieson and Dr Florijn Dekkers were part of a team led by Professor Jane Visvader and Professor Geoff Lindeman whose research discoveries were highlighted this week in a special edition of the journal Development.
Many research groups around the world have been trying to develop breast organoid systems, Professor Visvader said. "We are thrilled that Paul and Florijn have optimised a highly efficient approach for this," she said.
"Importantly, the growth of breast organoids mimics the development of breast tissue from breast stem cells. We have also used it to address a controversy in the field, by showing that daughter cells known as luminal cells cannot generate the duct-like structures found in the breast. We have extensively characterised the system to show that cells within the organoids look and behave like the cells within breast tissue in the body."
The team is now collaborating with a research team led by Professor Hans Clevers at the Hubrecht Institute, Netherlands, who has developed a system to grow organoids from human breast tumours.
The ability to reliably generate human breast organoids could improve the testing of new therapies and may also enable a new era of personalised medicine for breast cancer, in which individual patients can be matched with the best treatment for their disease.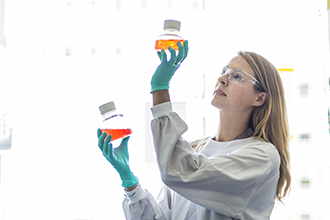 Pre-clinical breast cancer research to date has been heavily reliant on studies of individual cancer cells rather than cells within tumours, said Professor Lindeman, who is a medical oncologist at The Royal Melbourne Hospital and the Peter MacCallum Cancer Centre.
"A system to generate human breast cancer organoids would be an important advance in the field," he said. "This would enable the study of breast cancer cells behaving more like they do within the body, where they exist in close proximity to other cells.
The research was supported by the National Health and Medical Research Council, the Australian Cancer Research Foundation, Marie Skłodowska-Curie actions of the European committee, The Qualtrough Cancer Research Fund, the Joan Marshall Breast Cancer Research Fund, the National Breast Cancer Foundation, Cure Cancer Australia, the Victorian Cancer Agency and the Victorian Government Operational Infrastructure Support Scheme.
The Walter and Eliza Hall Institute is the research powerhouse of the Victorian Comprehensive Cancer Centre, an alliance of leading Victorian hospitals and research centres committed to controlling cancer.
For more information contact the Institute's media team:
Ph: +61 475 751 811