Melbourne researchers have discovered how a form of leukaemia fights back against a groundbreaking treatment, providing vital new leads on how to outmaneuvre the deadly disease.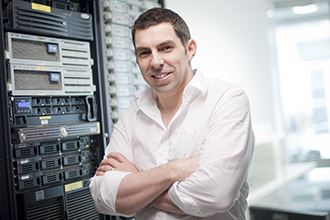 The discovery was made in a Victorian Comprehensive Cancer Centre-led research effort by Peter MacCallum Cancer Centre researchers and involving scientists from the Walter and Eliza Hall Institute.
Published in the journal Nature the study shows how leukaemia stem cells react to BET-inhibitors, a novel treatment that is currently in international clinical trials, including in Australia. This promising treatment targets epigenetic mechanisms of disease to effectively 'switch-off' cancerous genes in acute myeloid leukaemia (AML). 
The team studied how AML stem cells respond to BET-inhibitors and become resistant to the treatment. In the long term this may enable researchers to devise interventions that can neutralise the source of resistance before it develops. 
As part of the research the team were able to grow and maintain leukaemia stem cells in a laboratory dish, making it easier and faster to test new treatments with the potential to eradicate the disease. The team included Walter and Eliza Hall Institute researchers Dr Alan Rubin and Associate Professor Tony Papenfuss, who also hold appointments at the Peter MacCallum Cancer Centre.
The researchers found that resistance develops when the cells adapt to BET-inhibitors, increasing expression of proteins that circumvent the inhibitors and reactivate key cancer driving genes. 
Bioinformatics, a field of research that uses mathematics, statistics and computer science to make sense of complex biological data, played a vital role in revealing how the AML cells develop resistance said Associate Professor Papenfuss. "The team integrated multiple powerful genomics datasets to make the discoveries," he said.
The research team's discovery will boost understanding of AML, which affects more than 900 Australians each year, and 300,000 globally, with five-year survival rates of just 25 per cent.
Lead investigator Associate Professor Mark Dawson from the Peter MacCallum Cancer Centre said their clinical trial of BET-inhibitors was giving new hope to selected patients with aggressive forms of AML.
"The risk of resistance developing is common in any cancer treatment," Associate Professor Dawson said. "Knowing precisely how that happens in advance puts us one step ahead in outmaneuvering the disease. Being able to grow and maintain leukaemia stem cells in vitro, also gives us unprecedented access and insight into how they work, so we can find new and better ways to target and destroy them."
The Victorian Comprehensive Cancer Centre is an alliance of ten successful Victorian organisations committed to cancer control, including the Walter and Eliza Hall Institute of Medical Research, Peter MacCallum Cancer Centre, Melbourne Health (including The Royal Melbourne Hospital), The University of Melbourne, The Royal Women's Hospital, The Royal Children's Hospital, Western Health, St Vincent's Hospital Melbourne Austin Health and Murdoch Childrens Research Institute.
The research was supported by the Leukaemia Foundation of Australia, the Australian National Health and Medical Research Council and the Victorian Government Operational Infrastructure Support Program.
Further information
Vanessa Solomon
Communications Adviser
P: +61 3 9345 2971
E: solomon@wehi.edu.au