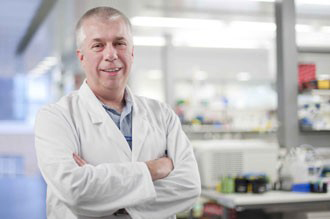 Walter and Eliza Hall Institute researcher Professor Stephen Nutt has been awarded a $200,000 Multiple Myeloma Research Foundation (MMRF) grant to study key immune cell genes and their role in cancer.
It is hoped that the research will lead to the identification of new therapeutic targets for the difficult-to-treat blood cancer multiple myeloma.
The MMRF Senior Research Grants aim to accelerate the development of therapeutic approaches for myeloma. Multiple myeloma is one of the most common blood cancers, and arises from altered plasma cells whose numbers can no longer be appropriately controlled.
Dr Nutt, who heads the institute's Molecular Immunology division, said that he was excited about the potential of the research, made possible with the MMRF funding.
"Plasma cells are a rare and highly specialised cell type which produce the antibodies that are essential to protect us from microorganisms and delivery immunity after vaccination," Dr Nutt said. "They are also at the origin of multiple myeloma. Our research aims to understand how plasma cells are formed and what goes wrong with these cells to produce multiple myeloma."
Dr Nutt studies the function of molecules called transcription factors, which control the development, differentiation and function of immune cells. Transcription factors bind to DNA sequences to control which genes are switched on or off in a cell, which affects protein production. Modern genomics technologies have revealed that altered transcription factor functions are at the heart of most blood cell cancers.
Two particularly important transcription factors for the development of plasma cells, Irf4 and Blimp1, will be the first to have their role in multiple myeloma investigated, Dr Nutt said.
"We know that the production of plasma cells is regulated by the genes Irf4 and Blimp1 although we don't know how this works," Dr Nutt said. "In this project, we will use sophisticated DNA screening technologies in an attempt to understand how Irf4 and Blimp1 control the activity of the plasma cell genome. There is evidence to suggest that these proteins are essential for development of multiple myeloma, and we are interested in seeing whether inhibiting Irf4 or Blimp1 function impairs the growth of the tumour."
Dr Nutt said that while multiple myeloma can be treated with chemotherapy, there is at present no therapy that is specific for this type of cancer, and no cure.
"Our studies, if successful, will highlight Irf4 and or Blimp1 as important therapeutic targets for this disease," he said.
Institute director Professor Doug Hilton said that the new research coming out of the division is very exciting. "The work from the Molecular Immunology division has the potential to open up new avenues of treatment for multiple myeloma and builds on the tremendous success of the institute in tackling a variety of blood cell cancers," he said.
For further information:
Liz Williams
Communications and Marketing Officer
Ph: +61 3 9345 2928
Mob: 0405 279 095
Email: williams@wehi.edu.au