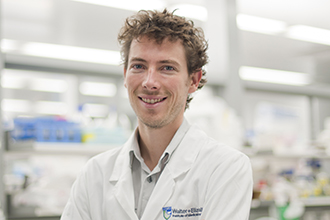 Walter and Eliza Hall Institute researchers are two of six Australian recipients of Howard Hughes Medical Institute (HHMI) International Research Scholars awards in 2017.
Dr Wai-Hong Tham and Dr Seth Masters will each receive US$650,000 over five years to progress their research into malaria and the immune system.
Dr Tham investigates how Plasmodium vivax, the dominant malaria parasite in countries outside of sub-Saharan Africa, recognises and invades red blood cells inside the human body.
Malaria is an ancient disease and one of the driving forces of evolutionary selection in the human genome. Dr Tham's research on host-pathogen interactions in malaria infection has increased our understanding on how malaria parasites infect humans and subvert the immune system for their survival.
Dr Tham said malaria parasites were exquisitely adapted for invasion and survival within human red blood cells.
"The invasion process is a point in the parasite lifecycle that is vulnerable to immune attack and potential treatment interventions," Dr Tham said. "A detailed understanding of the complex interplay between malaria parasites and the human host is critical for developing novel therapeutics against this devastating disease."
"This funding will provide vital support for our studies into how malaria parasites interact with their human hosts."
Dr Masters will use personalised medicine to identify genetic changes that cause severe inflammatory diseases early in life.
In his past research, Dr Masters has helped to identify the genetic causes of two rare but severe inflammatory diseases, one of which is fatal in early childhood. In both conditions, knowing the genetic causes enabled the identification of drugs that resolved the diseases.
He said the funding would enable studies that would further understanding of how the innate immune system works.
"Our research will provide fundamental knowledge that may identify targets for the development of drugs to treat common inflammatory conditions such as heart disease, inflammatory bowel disease, type 2 diabetes and neurological disorders," Dr Masters said.
"This project represents a major new vision towards which the HHMI International Research Scholars award would allow us to expand."
In 2017 HHMI teamed up with the Bill & Melinda Gates Foundation, the Wellcome Trust and the Calouste Gulbenkian Foundation to award almost $26.7 million to 41 scientists from 16 countries. The HHMI International Research Scholars awards support exceptional early-career scientists to pursue new research directions and creative projects that could advance biomedical research around the globe.
For more information:
Liz Williams
Media and Publications Manager
E: communityrelations@wehi.edu.au
M: +61 475 751 811