A Walter and Eliza Hall Institute team searching for a cure for hepatitis B have won the 2015 Australian Museum Eureka Prize for Infectious Disease Research.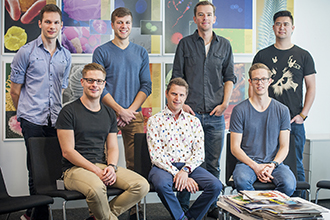 The team, led by clinician-scientist Dr Marc Pellegrini were the winners of the the 2015 Australian Infectious Diseases Research Centre Eureka Prize for Infectious Diseases Research. The team includes Dr Greg Ebert, winner of the 2014 Bupa Health Foundation Emerging Health Researcher Award, and colleagues from the institute's Infection and Immunity division.
Earlier this year, the team showed a promising new treatment, combining an anti-cancer drug with antiviral therapies, was 100 per cent effective in eliminating hepatitis B infections in preclinical models. The results were published in back-to-back papers in the journal Proceedings of the National Academy of Sciences.
Australian patients were the first in the world to have access to the potential treatment – a combination of an antiviral drug and an anti-cancer drug, which began clinical trials in late 2014.
Dr Pellegrini said the team's long-term goal was to develop treatments that would enable the body to eliminate chronic infections.
"Our team is dedicated to tackling some of the biggest challenges in infectious disease," Dr Pellegrini said. "Chronic infectious diseases including HIV, hepatitis and tuberculosis are an enormous burden to humanity, particularly in the developing world. Our work really takes a new approach in how we hope to treat – and potentially cure – these diseases."
Dr Pellegrini said he became interested in infectious diseases as a medical student, watching the medical fraternity grapple with infections, especially HIV.
"Despite the availability of new medicines, it became clear that the virus could be stalled but that we couldn't cure people at all," said Dr Pellegrini, "It made me interested in finding cures for all these infections for which we have medicines to control, but not cure the disease."
The innovative nature of the team's approach is in targeting and boosting the body's responses to infection, rather than trying to target the infection directly.
"For the past few years, we have been looking at how we can encourage infected cells to succumb to normal processes that instruct them to sacrifice themselves for the greater good," Dr Pellegrini said. "It is relatively easy for an organism to adapt to a drug, but it is very difficult to adapt to a change in the host cell. The virus relies on the survival mechanisms of the host, so if it can't exploit them, it dies. Such a monumental change in the virus' environment may be too big a hurdle for it to adapt to."
Dr Pellegrini and colleagues are now investigating if the same strategy could be applied to other chronic infectious diseases. "Bugs that infect and live inside host cells, including viral diseases such as HIV, herpes simplex and dengue fever, and bacterial infections such as tuberculosis, could all potentially be cured in a similar way," he said.
Further information
Vanessa Solomon
Communications Adviser
P: +61 3 9345 2971
E: solomon@wehi.edu.au