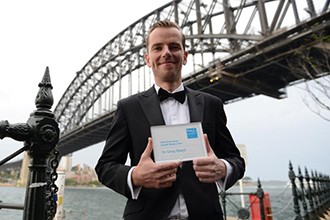 Walter and Eliza Hall Institute researcher Dr Greg Ebert has won the Bupa Health Foundation Emerging Health Researcher Award 2014 for his work on developing a new therapy for chronic hepatitis B virus (HBV) infection.
Chronic hepatitis B is a viral liver disease that affects 230,000 Australians. If left untreated the disease can lead to progressive liver diseases such as cirrhosis and liver cancer. More than 780,000 people around the world die every year from complications associated with the disease. There is currently no cure for hepatitis B.
Dr Ebert, from the institute's Infection and Immunity division, is working with laboratory head Dr Marc Pellegrini, colleagues at the institute and TetraLogic Pharmaceuticals, a biotech company based in Malvern, PA, USA to develop and trial a new therapy with the potential to eradicate liver cells that are infected with hepatitis B virus, aiming to clear the patient of disease.
"In most patients, HBV infection is efficiently controlled by the immune system," Dr Ebert said. "However approximately five per cent of patients can't control the virus and develop a chronic infection, so we have been searching for a way to help these people.
"Pre-clinical research has shown that our therapy has the potential to remove infected liver cells while not harming uninfected cells. This gives us great hope that the treatment will deliver benefits to patients in the near future."
Dr Ebert said he was humbled to receive the award and grateful for the recognition. "It is an honour to be recognised for our contributions to medical research," he said. "This award will provide much needed support as we progress our research towards clinical trials."
Institute director Professor Doug Hilton said early-career researchers such as Dr Ebert were important to the institute and would play a significant role in future discoveries. "It is pleasing to see one of our young scientists receive the Bupa Health Foundation Emerging Research Award," he said.
"Greg is an outstanding young scientist who has made a significant contribution to the fight against hepatitis B and, like many of our early- and mid-career researchers, he represents the future of medical research at the institute."
The $25,000 Bupa Health Foundation Emerging Health Researcher Award 2014 recognises the valuable contribution of emerging health researchers to health outcomes for all Australians. The award was presented at the Research Australia Awards dinner in Sydney on 5 November 2014.
Further information:
Alan Gill
Science Communications Officer
P: +61 3 9345 2719
E: gill.a@wehi.edu.au