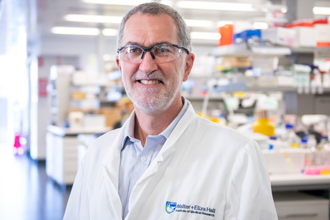 Walter and Eliza Hall Institute researcher Professor Warren Alexander joins a select group of 24 fellows to be admitted to the Australian Academy of Science in 2019.
Professor Alexander's election recognises his contributions to the field of molecular haematology research.
He said the focus of his research is understanding how the body controls the production and function of its blood cells.
"My contribution to research in this field has been in the area of the actions of blood cell hormones and a family of proteins that are important in regulating the responses that blood cells have to these hormones," he said.
"I'm particularly interested in how that process works for the production of blood platelets, which are the small cells that are critical for helping our blood clot when we're injured."
He noted that the loss of platelets in people receiving chemotherapy is still a problem in treating cancer.
"If we can understand more about the normal ways that these processes work, how platelets are made, then hopefully that information can ultimately be applied to developing new treatments.
"I am honoured by the recognition of being elected a new fellow of the academy, and I want to acknowledge the wonderful support and contribution of my colleagues and collaborators, particularly at the Walter and Eliza Hall Institute."
A celebration of Australian science
The Academy of Science will host a New Fellows Admission Ceremony on 28 May in Canberra. The ceremony forms part of the annual three-day Science at the Shine Dome event, celebrating and honouring outstanding achievements in science.
New fellows are selected on the basis of their scientific achievements by existing fellows of the society.
Australian Academy of Science President, Professor John Shine, congratulated the new fellows for making significant and lasting impacts in their scientific disciplines.
"These scientists were elected by their Academy peers following a rigorous evaluation process. What stands out among the new fellows elected this year is the collective impact of their science on an international scale," Professor Shine said.
Media inquiries
M: +61 475 751 811
E: communityrelations@wehi.edu.au