Blood cancer researcher and haematologist Professor Andrew Roberts has been appointed a Member of the Order of Australia (AM) in the 2020 Queen's Birthday Honours.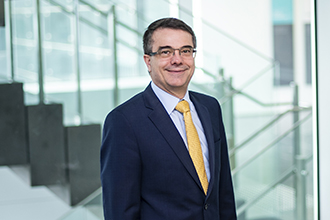 The award recognises Professor Roberts' contributions to advancing the understanding and treatment of blood cancers, and service to haematology and cancer organisations. In particular, Professor Roberts was instrumental to Institute research revealing how cancer cells stay alive. This knowledge was leveraged to develop a new class of anti-cancer drugs, which includes a medicine that in clinical use around the world for treating patients with certain forms of leukaemia.
Professor Roberts is joint leader of the Institute's Cancer Research and Treatments theme, a clinical haematologist at the Royal Melbourne Hospital (RMH) and Peter MacCallum Cancer Centre, the Haematology Lead for Research and Education at the Victorian Comprehensive Cancer Centre, and the Metcalf Chair of Leukaemia Research at the University of Melbourne.
At a glance
Clinician-scientist Professor Andrew Roberts has been appointed a Member of the Order of Australia.
The award recognises Professor Roberts' significant research contributions to the development of a new class of anti-cancer medicine that are now in clinical use for certain types of leukaemia, as well as his service to community and professional cancer organisations.
Harnessing the cell death machinery
Professor Roberts' clinical and research focus is on blood cancers such as leukaemia and lymphoma. He has made key contributions to improving the treatment of blood cancers through the development of a new class of anti-cancer medicines.
Healthy cells contain 'pro-survival' proteins that keep the cells alive by opposing other 'pro-death' proteins that can rapidly force the cell to die. There is a normally a fine balance between pro-survival and pro-death proteins, but Institute research revealed that in cancer cells this balance is disrupted – meaning cancer cells can survive conditions im which a normal cell would die.
Many cancer cells are kept alive by elevated amounts of pro-survival proteins of the BCL-2 family. A new class of medicines, called BH3-mimetics, neutralises these pro-survival proteins, and can overcome cancer cells' resistant to death – making the cells die.
Professor Roberts led the world's first trials of a BH3-mimetic drug that was based on Institute science and developed as part of a collaboration with international pharmaceutical companies. The trials, which started in Melbourne, showed the drug could safely kill certain types of leukaemia in patients, and have led to Professor Roberts leading combination trials of the drug. The drug has now been approved for clinical use as a treatment for certain forms of leukaemia.
Institute director Professor Doug Hilton AO said Professor Roberts contributed unique expertise to the development of BH3-mimetics.
"Andrew is a brilliant clinician-scientist combining a wealth of experience in medicine with a deep understanding of the biology underlying diseases," he said.
"He has had an immense impact in understanding and treating blood cancers. At the same time has been a wonderful leader and mentor at the Institute as well as making immense contributions through his clinical appointment and his service to the scientific and medical community," Professor Hilton said.
Working with great teams
Professor Roberts said he was honoured to be recognised for his service to the Australian community. "I want to pay tribute to, and thank, the very many people that I have worked with to improve the lives of people afflicted with cancer," he said.
"We get the most done when we work in teams, and I have been lucky enough to work within great teams at the Institute, the Royal Melbourne Hospital and the University of Melbourne, and also Cancer Council Victoria, the Australasian Leukaemia and Lymphoma Group and on government advisory bodies," Professor Roberts said.
Other awards Professor Roberts has received in his career include:
Media inquiries
M: +61 475 751 811
E: communityrelations@wehi.edu.au