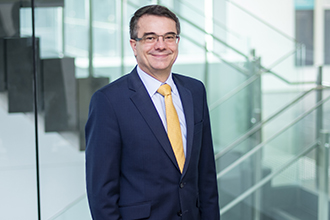 Cancer researcher and haematologist Professor Andrew Roberts has been elected a Fellow of the Australian Academy of Science (AAS).
His ground-breaking research contributed to scientific knowledge on how cancer cells stay alive, which has been leveraged to develop a novel anti-cancer drug for treating blood cancer patients. The drug is approved in Australia and internationally for treating some types of chronic lymphocytic leukaemia (CLL), the most common leukaemia diagnosed in Australia. It is the first of an entirely new class of medicines to become routinely available for clinical use.
Professor Roberts is joint leader of the Institute's Cancer Research and Treatments theme, a clinical haematologist at the Royal Melbourne Hospital (RMH) and Peter MacCallum Cancer Centre and the Metcalf Chair of Leukaemia Research at the University of Melbourne.
He is one of 24 scientists elected a Fellow of the Academy in 2020.
Cancer drug success
The new class of anti-cancer drugs targets proteins from the BCL-2 family that help keep leukaemia cells alive. The drugs block these proteins, thereby helping to kill and reduce the number of cancer cells.
Professor Roberts said the success story was underpinned by three decades of scientific determination and collaboration.
"My colleagues and I discovered that you can safely kill certain types of leukaemia in the laboratory, and in patients, with an entirely new type of anti-cancer drug, that is based on Australian science and developed as part of a collaboration with international pharmaceutical companies," Professor Roberts said.
"This has led to the routine use of a novel drug in many countries around the world – including Australia – for patients with chronic lymphocytic leukaemia or acute myeloid leukaemia."
Triumph of innovation and collaboration
Professor Roberts and his colleagues from the Walter and Eliza Hall Institute were awarded the 2019 Prime Minister's Prize for Innovation for their roles in the discovery and development of the anti-cancer drug. Professor Roberts' contributions included leading the first-in-human trial of the drug, which started in Melbourne, and subsequent combination trials of the drug.
"This really was a triumph of basic science and translational innovation, enabling the generation and rapid regulatory approval of a product that is significantly beneficial for many people," Professor Roberts said.
He credited his experience as a young doctor caring for blood cancer patients as the inspiration for his as a clinician-scientist.
"As a young doctor, I was struck by how poor many of our treatments for patients with blood cancers were. I was motivated to discover new treatments by exploiting basic research discoveries about the biology of these diseases," Professor Roberts said.
Australian Academy of Science President Professor John Shine AC congratulated the new Fellows for making significant and lasting impacts in their scientific disciplines.
Professor Roberts is Metcalf Chair of Leukaemia Research, a joint appointment between the University of Melbourne, WEHI and RMH, and Haematology Lead for Research and Education at the Victorian Comprehensive Cancer Centre.
In addition to the Prime Minister's Prize for Innovation, Professor Roberts' awards include the 2018 Victoria Prize for Life Sciences, 2018 ATSE Clunies Ross Knowledge Commercialisation Award and 2016 Johnson & Johnson Eureka Prize for Innovation in Medical Research.
Media inquiries
M: +61 475 751 811 
E: communityrelations@wehi.edu.au