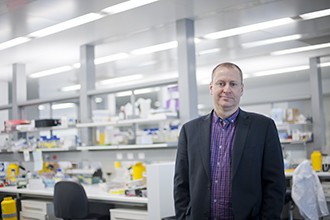 Awarded by the Clive and Vera Ramaciotti Foundations, the Ramaciotti Medal and accompanying $50,000 grant recognises outstanding contributions to clinical or biomedical research, or the way in which healthcare is delivered.
Professor Hilton is a renowned leader in cell signalling and blood research, making a number of discoveries that have changed the way we view blood cell production and development in the body. He is a passionate advocate for translating the benefits of biological discoveries to treatments for patients, and his work has helped to further our understanding of diseases such as leukaemias and immune disorders.
Professor Hilton said it was an honour to be recognised by the Clive and Vera Ramaciotti Foundations for his research. "Since its inception in 1971, the Clive and Vera Ramaciotti Foundations has supported many biomedical scientists and research institutes through grants and awards," Professor Hilton said. "I am humbled and grateful to the foundations for this award, and hope to continue to lead research that will improve therapies and health outcomes for the community."
In the 1980s, Professor Hilton was part of the research team that discovered a molecule that controls the development of leukaemia cells. The molecule, called LIF (leukaemia inhibitory factor) has become a vital tool for growing stem cells and the research has become one of the most cited academic articles from an Australian biomedical scientist in the past 20 years.
Professor Hilton also led the team that identified how blood cell signalling is regulated, discovering a new family of proteins called SOCS (suppressors of cytokine signalling). SOCS proteins help prevent the detrimental effects of excessive blood cell signalling, such as occurs in chronic inflammation. These molecules are now being studied for their role in the development of immune disorders and other blood diseases, with a view to developing drugs for diseases such as myelodysplastic syndrome, that can lead to serious blood disorders and cancers.
Professor Hilton has been actively involved in the application of research through collaboration with industry and is an inventor on more than 20 patent families, and co-founded the biotechnology company Murigen. Professor Hilton's research is now focused on identifying the genes and molecular pathways and signals involved in blood cell formation and production, from early blood stem cells through to fully mature blood cells.
Mr Andrew Thomas, head of Philanthropic Services at Perpetual, which manages the Ramaciotti Foundations, said Professor Hilton joined an honour board of outstanding individuals and institutions pioneering vital frontiers for medical research. "I congratulate Professor Douglas Hilton on this achievement, which reflects his ground-breaking work in blood cell production."
Professor Hilton has received numerous awards throughout his career including the Seymour & Vivian Milstein Award for Excellence in Interferon and Cytokine Research, Gottschalk Medal from the Australian Academy of Science and election as a Fellow of the Australian Academy of Science.
Further information:
Alan Gill
Science Communications Officer
P: +61 3 9345 2719
E: gill.a@wehi.edu.au