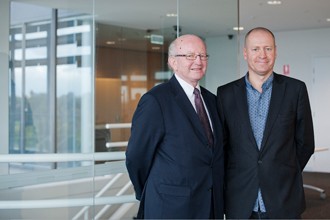 Incoming Walter and Eliza Hall Institute board president Mr Christopher Thomas will use his new appointment to champion medical research and the better health outcomes it delivers for Australians.
Mr Thomas, a senior adviser and former Melbourne managing partner of executive search firm Egon Zehnder, became the institute's 16th board president in February 2013. Mr Thomas has served on the institute's board for more than 12 years, and has extensive experience in business management and governance.
Mr Thomas said he was inspired by the institute's commitment to translate its research into improved health outcomes for all Australians.
"It is an enormous privilege to become president of an organisation with such an outstanding international reputation," Mr Thomas said. "I look forward to continuing to work with the brilliant management and staff at the institute as well as with our two founding and supportive partners, The University of Melbourne, where I am an alumnus, and Melbourne Health."
Mr Thomas said he was also committed to helping the institute increase awareness about the benefits of medical research and encouraged the Australian community to invest in its future by supporting scientists through donations to research.
"As we approach our centenary in 2015, the challenges facing medical research, its translation and its funding will continue to be uppermost in our minds," he said.
Mr Thomas is a fellow of the Australian Institute of Company Directors and is a previous chairman of the Heide Museum of Modern Art and of the Victorian Community Foundation and was also president of the Melbourne Business School Alumni. He also served on the board of the Corps of Commissionaires (Victoria) and the Council of the Australian Film, Television and Radio School.
At Egon Zehnder, Mr Thomas chaired the firm's international partners' meetings for a decade and also led the global Board Consulting Practice for a similar period while based in both Melbourne and Paris.
Institute director Professor Doug Hilton said he was delighted that Mr Thomas had accepted the role of board president.
"Chris has a wealth of experience and will provide excellent leadership and guidance to the institute, ensuring that we continue to deliver excellence in research and supporting our commitment to translate institute discoveries into better health outcomes for Australians," Professor Hilton said.
Outgoing board president Mr Leon Davis AO, who resigned the position in February, said Mr Thomas' professionalism and community knowledge would be a great asset as board president.
"It has been a great honour to serve as the president of the Walter and Eliza Hall Institute board," Mr Davis said. "I wish my successor Chris Thomas good fortune in presiding over this Australian icon. Under his leadership I know the administration of the institute is in good hands, which will allow our excellent people to work unhindered in bringing forth discoveries to the lasting benefit of the community."
Professor Hilton thanked Mr Davis for his invaluable service to the institute, and announced the naming of the Davis Auditorium in recognition of Mr Davis' contributions to the institute. "Under the guidance of Leon and the board, we delivered a state-of-the-art $190 million building redevelopment on time and under budget, against the background of significant financial turbulence in the world economy," Professor Hilton said.
"Today we announced that we will name our public lecture theatre the Davis Auditorium, in acknowledgement of Leon's commitment and significant contribution to the institute over the past 12 years – 10 of those as board president. I would like to take this opportunity to sincerely thank Leon for his guidance as president and his continued efforts to support and further the institute's mission."
Further information:
Liz Williams
Media and Publications Manager
P: +61 3 9345 2928
M: +61 405 279 095
E: williams@wehi.edu.au