Walter and Eliza Hall Institute researchers have been awarded two of the Australian National Health and Medical Research Council's (NHMRC) highest honours.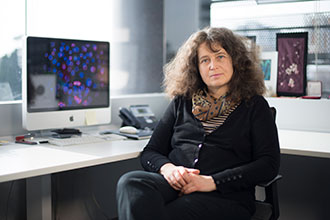 Associate Professor Anne Voss and a malaria research team led by Professor Alan Cowman each received 2014 NHMRC Research Excellence Awards in Canberra last night.
The malaria research team received the NHMRC's top-ranked program grant in 2014. The program aims to develop improved strategies to prevent and treat malaria and brings together chief investigators Professor Cowman and Professor Ivo Mueller from the Walter and Eliza Hall Institute, Professor Brendan Crabb and Dr James Beeson from the Burnet Institute and Dr Stephen Rogerson from the University of Melbourne.
Professor Cowman said the team would focus on the biology, transmission and public health effects of malaria, with a view to developing effective vaccines, new drugs and therapeutics, and other interventions and surveillance tools to advance malaria control and elimination.
"As a community, we are starting to bring malaria under control," Professor Cowman said. "The possibility that we can use our research discoveries on the malaria parasite to one day eliminate it completely is a major source of inspiration for all our team."
Professor Cowman and his colleagues have spent more than 30 years investigating the Plasmodium parasite, which causes one of the world's most significant health problems: malaria. Among their many discoveries was identifying important drug targets for treating of malaria, and developing the first vaccine using weakened Plasmodium falciparum parasites, which is currently being tested in clinical trials. For this he has also been recognised through election to the Royal Society and the Australian Academy of Science.
Associate Professor Anne Voss received the NHMRC's Elizabeth Blackburn Fellowship Award for biomedical science, which is awarded to the highest-ranked female applicant in the NHMRC Research Fellowship scheme.
Associate Professor Voss, head of the institute's Development and Cancer division, has made significant contributions to our understanding of embryonic development, laying the basis for the discovery of the genetic causes of human intellectual disability syndromes.
The fellowship will support Associate Professor Voss' research into the role of condensed DNA (called chromatin) in embryonic development and disease. "Embryonic development is one of the greatest marvels in life – the development of a healthy infant from a single cell, the fertilised egg," Associate Professor Voss said.
"Chromatin-modifying proteins influence gene expression and are essential for health and normal development. Mutations in genes encoding these proteins typically cause embryonic death or severe birth defects, so it is important to understand how these proteins work and the impact mutations can have on the developing embryo."
The Elizabeth Blackburn fellowships are named in honour of Australian Nobel Laureate Professor Elizabeth Blackburn, and were established to promote and foster the career development of female researchers. As an NHMRC Elizabeth Blackburn Fellow, Associate Professor Voss will join an NHMRC advisory group with a special focus on women in science.
Further information
Vanessa Solomon
Communications Adviser
P: +61 3 9345 2971
E: solomon@wehi.edu.au