The Walter and Eliza Hall Institute's quest to develop a vaccine for malaria received an $11.6 million boost in the latest National Health and Medical Research Council (NHMRC) funding announcement.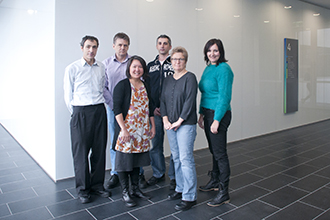 Two teams from the Walter and Eliza Hall Institute's malaria research program received grants to support the translation of fundamental malaria discoveries to develop potential malaria vaccines.
Professor Alan Cowman and Professor Ivo Mueller were awarded one of 11 NHMRC Program Grants, together with Professor Brendan Crabb and Professor James Beeson from the Burnet Institute and Professor Stephen Rogerson from The University of Melbourne. The team, led by Professor Cowman, received $10.9 million over five years to progress the development of treatments for malaria based on discoveries made at these institutions.
Professor Cowman said malaria was one of the world's most significant health problems. "Plasmodium falciparum causes 250 million clinical cases of malaria and more than 800,000 deaths per year," he said.
"Our team has more than 30 years experience and 100 scientists who are unravelling the secrets of malaria, including its basic biology, how it causes disease, where it spreads and how it thwarts our control efforts," Professor Cowman said.
"This grant will be used to enable significant fundamental malaria discoveries made by the team to be translated into potential new vaccines and antimalarial drugs for the most severe form of malaria that can be progressed to clinical trials."
Professor Cowman said the program would have a larger focus on the malaria strain Plasmodium vivax. "Plasmodium vivax is often overlooked and left in the shadow of the enormous problem caused by Plasmodium falciparum," he said.
"However it is a significant cause of disease in Asia and the Pacific, with up to 2.5 billion people at risk, as well as the most common cause of chronic malaria infections in the region.
"Our strong links with medical research organisations in Papua New Guinea will help the development of better diagnostic tests that will pinpoint transmission 'hotspots' in the Asia-Pacific in the quest to eradicate malaria in the region."
Professor Louis Schofield is leading a team that was awarded a NHMRC Development Grant of more than $750,000 to progress a vaccine that could potentially be effective against all species, stages and strains of the malaria parasite.
"Malaria eradication is the ultimate goal for any malaria vaccine approach," Professor Schofield said. "However the complexity of the parasite's biology and lifecycle make it extremely difficult for a single vaccine to be effective against all strains and development stages of the parasite.
"Excitingly, we have found a part of the malaria parasite that is conserved across all species and has been able to kill all the main stages of malaria in models. This funding will help us progress our vaccine to the point of human clinical trials, hopefully within three years."
In addition to the malaria funding grants, two new postgraduate students received more than $200,000 in total over three years in scholarships to support their work at the institute.
Ms Anderton was the recipient of a Dora Lush Biomedical Postgraduate Scholarship, and will investigate the role of a family of inflammatory molecules in skin disease, working with Associate Professor John Silke.
Dr Whittle received a NHMRC Medical/Dental Postgraduate Scholarship and is working with Professor Geoff Lindeman looking at cell survival pathways as potential targets in breast cancer.
Further information
Liz Williams
Media and Publications Manager
M: 0428 034 089
E: williams@wehi.edu.au