Lung, colorectal, pancreatic and rare cancers are on the hit list of Walter and Eliza Hall Institute researchers who are the recipients of Victorian Cancer Agency grants announced today by The Hon Jill Hennessy MP Minister for Health at the Victorian Comprehensive Cancer Centre.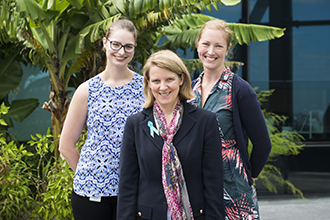 Three Institute researchers have received funding in support of their research aimed at improving the survival rates for people with rare or deadly cancers that currently have limited treatment options.
Associate Professor Clare Scott, the Institute's lead rare cancer researcher and clinician at the Peter MacCallum Cancer Centre, is the recipient of a clinical research fellowship that will support her research into rare cancers.
"The Victorian Cancer Agency funding will enable my team to make urgently needed advances in rare cancers research," Associate Professor Scott said.
"Survival rates for most rare cancers have not improved as they have done for more common cancers. Understanding the mechanisms behind how rare cancers operate will eventually lead to more successful treatment options, increased survival rates and overall health outcomes of the Victorian community."
Dr Tracy Putoczki received a mid-career research fellowship to further her research into colorectal and pancreatic cancers, two of the deadliest cancers in Australia.
"I am interested in a molecule called Interleukin-11 produced by colorectal and pancreatic cancers. Interleukin-11 enables the cancers to continue to grow during chemotherapy treatments," Dr Putoczki said.
"The funding will help my team understand how a new antibody that targets Interleukin-11 can prevent the tumour's resistance to chemotherapy."
Early career seed grant recipient Dr Sarah Best will receive $200,000 to support her translational research, bringing the findings from the laboratory to the clinic.
"Lung cancer remains a deadly cause of cancer-related death in Australia, with limited research tools available to study the most aggressive sub-types of this disease," Dr Best said.
"This funding will help with the development of laboratory models and identification tools that will lead to improvement in the early detection and treatment of lung cancer."
The Walter and Eliza Hall Institute is the research powerhouse of the Victorian Comprehensive Cancer Centre (VCCC). Through innovation and collaboration, the VCCC and its membership will drive the next generation of improvement in the prevention, detection and treatment of cancer.
For more information contact the Institute's media team: 
Mobile: +61 475 751 811