A research technique that is widely used to test new anti-cancer agents could be improved by adoption of a worldwide 'gold standard', according to a new study led by Walter and Eliza Hall Institute scientists.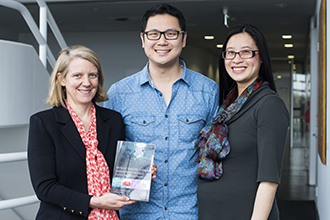 In the first ever research of its kind, 64 academic research programs in North America, Europe, Australia and Asia were surveyed to establish how they used a technique called 'patient derived xenografting' to grow and study cancer samples taken from consenting patients. The method is an important way that cancer researchers can undertake laboratory experiments such as the testing of new anti-cancer agents.
Walter and Eliza Hall Institute cancer researchers Dr Kim Pham, Dr Gwo Yaw Ho and Associate Professor Clare Scott used the information from their study to develop a 'gold standard' for growing human cancer samples in the laboratory, considering both how the experiments are conducted as well as the governance of the use of human tissue in this system. Their research was published in a new book, Patient Derived Tumor Xenograft Models – Promise, Potential and Practice.
Dr Pham said patient derived xenografts were an important laboratory technique for studying human cancers in conditions mimicking the human body. "They are an important pre-clinical research tool that informs the future development of clinical cancer trials," she said. "It is crucial that we have worldwide standards for patient derived xenografts to ensure research in this field can be reproduced and directly compared between laboratories.
"Our study uncovered considerable variability in how laboratories around the world undertook patient derived xenograft experiments. From this we have developed what we consider a 'gold standard', what would be the best practice in the area. The good news is that almost all the laboratories we surveyed had elements of best practice. The next step is for laboratories and organisations overseeing research to develop a process that ensures all laboratories work to the same gold standard," she said.
Associate Professor Scott, who is also medical oncologist at the Peter MacCallum Cancer Centre, The Royal Melbourne Hospital and The Royal Women's Hospital, said gold standard research could be achieved in some situations through research consortia bringing multiple organisations together to collaborate. "Improvements in reproducibility would enhance international collaborations, as well as accelerating preclinical research output," she said. "We were also able to establish guidelines for how this research can be optimally governed, particularly around questions of how permission for the use and transfer of human samples is governed. In the long term, improving this field of research will benefit people with cancer."
Dr Ho said cancer research using patient derived xenografts was very expensive to conduct. "In Australia, despite the challenges of using this technique in a tight funding climate, we were pleased to find most research was conducted to a high standard," he said. "In the future, the involvement of Australian researchers in local or international research consortia could be a viable option for our researchers to continue to making important advances in preclinical cancer research."
Dr Pham is a postdoctoral scientist at the Walter and Eliza Hall Institute, and undertook this project as part of her internship in the Business Development Office. Dr Ho is a medical oncology fellow at The Royal Women's Hospital and the Peter MacCallum Cancer Centre, and a PhD student enrolled at the Walter and Eliza Hall Institute through the University of Melbourne's Department of Medical Biology. Associate Professor Scott is a Cancer Council Victoria Sir Edward Dunlop Research Fellow. The Walter and Eliza Hall Institute receives funding from sources including the Australian National Health and Medical Research Council, the Australian Cancer Research Foundation and the Victorian Government Operational Infrastructure Scheme.
The Walter and Eliza Hall Institute is the research powerhouse of the Victorian Comprehensive Cancer Centre, an alliance of leading Victorian hospitals and research centres committed to controlling cancer.
For further information:
Vanessa Solomon
Communications Adviser
Ph: +61 3 9345 2971
Mob: +61 475 751 811
Email: communications@wehi.edu.au