Australian research on a combination antiviral therapy for COVID-19 has been boosted with new funding from the Medical Research Future Fund (MRFF).
Almost $1 million in MRFF funding will support a WEHI-led drug discovery program to develop a powerful therapeutic combination targeting two proteins that help the virus replicate.
The dual approach is designed to fight the emergence of antiviral resistance, a key threat with existing COVID-19 treatments that target a single protein.
At a glance
More than $999,600 in new funding awarded by MRFF for drug discovery research working towards a combination antiviral for COVID-19.
A multi-disciplinary team will target two key proteins in a combination treatment, to stop the virus replicating and prevent the selection of resistant strains.
One of the targeted proteins is linked to the body's immune response, offering hope of potential benefit for the treatment of long COVID.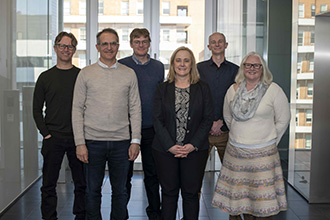 The importance of effective antiviral treatments has been underscored as new COVID-19 variants emerge, driving up infection rates and continuing to cause significant health and economic impacts.
Project leader Professor Guillaume Lessene said the new funding would progress the development of a combination therapy that targets distinct Achilles' heels of COVID-19 and reduces the risk of emergence of antiviral resistance.
"Drug development to fight the COVID-19 pandemic has progressed at a lightning pace but antivirals are the final piece in the puzzle, with only two treatments currently available to patients," said Professor Lessene, Theme Leader of New Medicines and Advanced Technologies at WEHI.
"We know from past experience with viral diseases such as HIV that a combination of antiviral drugs with distinct modes of action will be needed to effectively control the virus.
"The development of effective new medications takes time and significant investment, but we hope our promising results to date could enable us to rapidly progress this new combination therapy to the clinic."
The research brings together WEHI's expertise in drug discovery, infectious diseases, chemistry and structural biology, and leverages key facilities including the National Drug Discovery Centre.
The two-year project is a collaboration with the Monash Institute of Pharmaceutical Sciences (MIPS), which will evaluate the biopharmaceutical properties of the antiviral compounds.
The new funding will push the research to the next stage of development, enabling pre-clinical testing to optimise the compounds for efficacy, safety and stability. With further funding support, the treatment could be ready for clinical trials by 2024.
Dual-target discovery
Since the pandemic began in 2020, multi-disciplinary teams of WEHI researchers have strategically pursued two drug discovery programs in parallel, targeting the proteins PLpro and Mpro.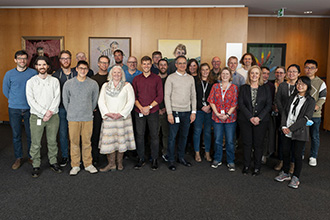 Both these proteins are essential for the replication of COVID-19, enabling the virus to hijack human cells and disable their antiviral defences.
PLpro is also linked to the body's immune response and researchers are hopeful that targeting this protein could have benefits for the treatment of long COVID.
The new MRFF-funded project brings together WEHI's work on PLpro (led by Professor David Komander) and Mpro (led by Professor Peter Czabotar).
The PLpro research has to date been generously supported by funding from the MRFF and the Wellcome Trust, with the Mpro work funded directly by WEHI and generous philanthropic donations for COVID research and translation.
The two proteins exist in all coronaviruses, with early indications showing the treatment in development may also have potential benefit against severe acute respiratory syndrome (SARS).
Coronavirus strategies
The latest funding boosts investment in COVID-19 research at WEHI, which includes MRFF funding for a range of programs to develop new classes of medicines as well as support for the COVID SHIELD clinical trial examining immunity to the virus.
WEHI Director, Professor Doug Hilton, said the Institute's COVID-19 research aimed to combat both the current pandemic and contribute to the development of new strategies that could be rapidly deployed for future coronavirus outbreaks.
"This project will demonstrate Australia's capability to develop effective therapeutic solutions to a global problem and we are thrilled that the MRFF has supported this next stage of development," Professor Hilton said.
"It's also an example of WEHI's rapid response to the COVID-19 heath crisis, leveraging our established drug discovery platforms and deep medicinal chemistry expertise.
"Our drug discovery programs have made great progress to date and it is exciting to see these teams join forces in this project, to expand their impact even further."
---
Chief Investigators on the new project: Professor Guillaume Lessene, Professor David Komander, Professor Peter Czabotar, Professor Marc Pellegrini, Dr Brad Sleebs and Associate Professor Melissa Call (WEHI), Professor Susan Charman (MIPS).
Media enquiries 
M: +61 475 751 811
E: communications@wehi.edu.au