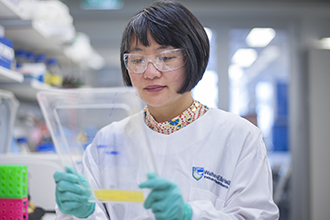 A team of Institute researchers tackling the world's most widespread and insidious malaria threat have won a 2019 Australian Museum Eureka Prize.
The Plasmodium vivax malaria team of Associate Professor Wai-Hong Tham, Professor Ivo Mueller, Associate Professor Leanne Robinson, Dr Rhea Longley and Dr Michael White won the Eureka Prize for Infectious Diseases Research, sponsored by the Australian Infectious Diseases Research Centre.
At a glance
An Institute malaria team has been awarded the Eureka Prize for Infectious Diseases Research.
The team's discoveries include developing potential antimalarial vaccine candidates and a blood test to identify people with P. vivax.
Each member of the team brings expertise in different fields with a common goal of controlling P. vivax malaria.
Significant breakthroughs
The malaria team's successes to date include discovering novel vaccine candidates against P. vivax and developing the first ever blood test to identify recently-infected people for immediate antimalarial treatment, in an effort to halt further transmission.
Their research identifying how P. vivax gains access to infect human host cells was recently published in high profile journals Science and Nature.
The team has extensive experience and strong partnerships with research institutes and ministries of health in the Asia-Pacific region, particularly in Papua New Guinea. Their collaborative program has highlighted the difficulty in eliminating malaria in the region, by identifying relapsing infections as the major cause of vivax infections in children.
Associate Professor Tham said P. vivax was a particularly complex health challenge globally.
"P. vivax is the main obstacle to malaria elimination in the Asia-Pacific and Americas," Associate Professor Tham said.
"The parasite can lie dormant in the body before re-emerging to cause disease, and asymptomatic carriers continue to transmit the parasite."
"Our team combines unique expertise in malaria biology, population studies and statistical models to overcome these challenges and support the region-wide goal of malaria elimination by 2030."
Unique expertise
Institute director Professor Doug Hilton AO said the team was internationally renowned for their contributions to the ongoing pursuit of malaria elimination strategies.
"Each member of the team is a world leader in their field and their breadth of expertise has created a beautifully complementary team bound by a common goal – to diagnose and prevent vivax malaria," said Professor Hilton.
"Their research discoveries have already led to major breakthroughs and have the potential to lead to many more. Their outstanding contributions to infectious disease research make them highly deserving of recognition."
The Australian Infectious Diseases Research Centre Eureka Prize for Infectious Diseases Research goes to an individual, group or team for an outstanding recent contribution to infectious diseases research and includes a cash prize of $10,000. This is the fourth Eureka Prize for Infectious Disease Research awarded to Institute scientists.