Walter and Eliza Hall Institute scientists Professor David Vaux AO and Professor Andreas Strasser have been jointly awarded the 2019 CSL Florey Medal for establishing a new field of research – the molecular biology of programmed cell death.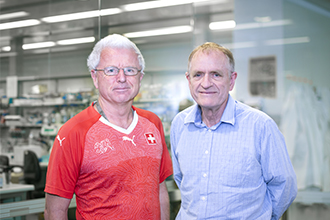 Since the 1980s Professor Vaux and Professor Strasser have led research revealing that errors in the molecules controlling cell death could lead to diseases including cancer and autoimmune conditions. Their discoveries contributed to the development of new classes of medicines that target the cell death machinery, including venetoclax that is used treat certain forms of leukaemia.
The CSL Florey Medal, conferred by the Australian Institute of Policy and Science, was presented tonight by Australian Minister for Health Greg Hunt MP at Parliament House, Canberra.
At a glance
The Australian Institute of Policy and Science has awarded the CSL Florey Medal to Professor David Vaux and Professor Andreas Strasser for their pioneering research into the molecular mechanisms the body uses to remove unwanted cells.
The award recognises landmark research by Professor Vaux and Professor Strasser that has shown how failure of this process leads to disease, and led to development of powerful new medicines to treat them.
Long-term research contributions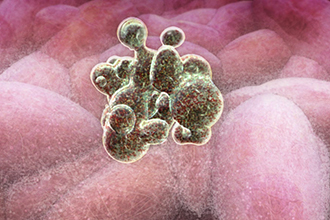 Professor Vaux and Professor Strasser's interest in the regulation of cell death began at the Institute in the late 1980s. Professor Vaux made the landmark discovery that elevated levels of the protein BCL-2, which had been observed in certain forms of blood cancer, made cells survive in conditions in which they would normally die. This was the first evidence that specific molecules regulate whether a cell survives or dies, and that inability of cells to kill themselves is a contributor to the development and persistence of cancer cells.
Professor Vaux and Professor Strasser showed that elevated BCL-2 accelerated the onset of cancer, and made cancer cells resistant to chemotherapy. They also showed that excess BCL-2 could enable the survival of 'autoreactive' immune cells that attack the body's own tissues, leading to autoimmune conditions such as lupus.
Professor Strasser and Professor Vaux's subsequent research revealed other components of the cell death machinery, that controls whether cells survive or die.
Walter and Eliza Hall Institute director Professor Doug Hilton AO said the researchers were key players in the development of two new classes of anti-cancer medicines, called BH3-mimetics and SMAC-mimetics. "Andreas and David's fundamental research discoveries uncovered new therapeutic targets that could be attacked by drugs to force cancer cells to die," he said.
"With many colleagues at the Institute, the pair continued their involvement in this research, in close collaborations with pharmaceutical companies, to be involved in the testing of new medicines that are now in clinical use for treating certain forms of blood cancers, as well as in clinical trials in combination with other cancer therapies for several forms of blood cancer as well as solid tumours.
"Andreas and David's impact on medical research has been immense."
The importance of basic research
Professor Strasser said he was deeply honoured to receive the CSL Florey Medal.
"The award recognises not only David and I, but a very large team of researchers at Institute," Professor Strasser said. "Our work is an excellent example for what can be achieved for patients and in terms of knowledge gain when scientists with complimentary expertise work together. It also emphasises the importance of supporting basic research into areas that, in the beginning, may seem somewhat esoteric, as such work can often leave to transformative outcomes," Professor Strasser said.
Professor Vaux said he was delighted to share the award with Professor Strasser, his friend and colleague of 40 years.
"The CSL Florey Medal recognises the fundamental importance of basic research, and how it can lead to unexpected but immensely important practical benefits, both in Australia and around the world," he said.
Venetoclax – marketed as VENCLEXTA – is a BH3-mimetic drug that was developed as part of a research collaboration between AbbVie, Genentech (a member of the Roche Group of Companies) and the Walter and Eliza Hall Institute.
Professor Strasser and Professor Vaux's research has received substantial support over the last 30 years from funders including the Australian National Health and Medical Research Council, the Australian Research Council, the US Leukemia and Lymphoma Society, the Victorian Cancer Council, and the Leukaemia Foundation of Australia.
Media enquiries
M: +61 475 751 811
E: communityrelations@wehi.edu.au