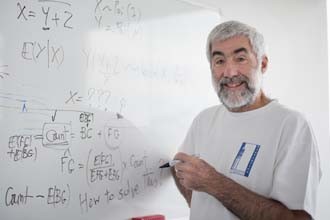 Walter and Eliza Hall Institute researcher Professor Terry Speed has been elected as a Fellow of the Royal Society, the UK's national academy promoting excellence in science.
Professor Speed's election recognises his contributions to the field of bioinformatics research, using mathematics and statistics to solve complex biological problems.
The Royal Society has announced that, this year, 44 new fellows have been elected from the UK and Commonwealth countries, including four Australians. New fellows are selected on the basis of their scientific achievements by existing fellows of the society.
Professor Speed has developed new ways to analyse biological data that have been applied to medical research in a range of fields including cancer, infection, immunology and inherited diseases. He now heads the Walter and Eliza Hall Institute's Bioinformatics division, and also leads a research group at the University of California at Berkeley, US.
Professor Speed said he was honoured to be elected to the society. "I am delighted to see the Royal Society recognise the field of statistical bioinformatics," he said.
"I want to pay tribute to my many students, postdocs, bioinformatics colleagues and biological collaborators. Without them, I would have done nothing. Further, my wife Sally's love and support over the past 50 years has been essential," Professor Speed said.
Professor Doug Hilton, director of the Walter and Eliza Hall Institute, said Professor Speed had made many significant contributions to biomedical research and mathematics during his career. "In the past 20 years, the field of genomics research has generated vast amounts of information that can only be interpreted with specially designed techniques," he said.
"Terry has been one of the leading figures in the field of genomics. As well as being an outstanding mathematician, he has forged close collaborative links with biomedical scientists to ensure his work has immediate relevance to biological problems. I am delighted that his peers in the Royal Society have recognised the importance of his research achievements."
Professor Speed has received many awards during his scientific career, including the 2012 Victoria Prize, the inaugural National Health and Medical Research Council (NHMRC) Achievement Award for Excellence in Health and Medical Research in 2007, an NHMRC Australia Fellowship in 2009, and the Australian Government Centenary Medal in 2001.
Further information:
Vanessa Solomon
Communications Adviser
P: +61 3 9345 2971
M: +61 431 766 715
E: solomon@wehi.edu.au