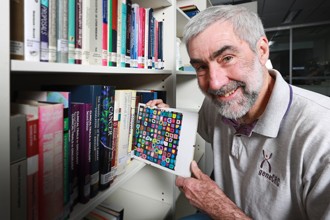 Professor Terry Speed, a senior researcher at the Walter and Eliza Hall Institute of Medical Research, was today awarded a 2012 Victoria Prize for Science and Innovation.
The $50,000 award for life sciences, presented by the Minister for Innovation, Louise Asher, recognised Professor Speed's more than 20-year career in bioinformatics, where he has used statistics to interpret biological data and help solve biomedical research questions.
Professor Speed heads the institute's Bioinformatics division, and also leads a research group at the University of California at Berkeley, USA. During his career, he has developed new techniques that have been used in many fields of biological research including cancer, infectious diseases, immunology, and inherited diseases.
Professor Speed's bioinformatics expertise has led to his involvement in The Cancer Genome Atlas, a US-based project that is charting the genomic changes involved in more than 20 types of cancer. This will help understand different forms of cancer and find new ways to control them.
The director of the Walter and Eliza Hall Institute, Professor Doug Hilton, said he was delighted to see Professor Speed receive local recognition of his research achievements, given the high regard in which he is held internationally. "Terry's research has had a major and long-lasting impact on the biomedical research landscape," he said. "New biological research technologies can generate vast quantities of genetic information, and Terry's research has led to new ways to make sense of this, to solve important questions.
"In addition to being an exemplary researcher who has been acknowledged by many international awards, Terry is an outstanding mentor. He has trained many other well-regarded bioinformaticians who are now making their own contributions to research around the world. His achievements in biological research are truly significant and will be felt for decades to come."
Professor Speed said he was deeply honoured to receive the Victorian Government's highest award for science. "I am very grateful to the many wonderful researchers I have worked with, both in Australia and internationally," he said. "I would also like to thank my wife, Sally, for her support throughout my research career.
"I am a product of the Victorian state education system and, having worked for many years in the United Kingdom and the United States, I am proud that for the past 15 years I have been able to pursue my research in Melbourne," Professor Speed said.
Professor Speed's achievements have been recognised by many awards, including the 2012 Thomson Reuters Citation Award, the inaugural National Health and Medical Research Council Achievement Award for Excellence in Health and Medical Research in 2007, an NHMRC Australia Fellowship in 2009, and the Australian Government Centenary Medal in 2001.
The Victoria Prize was initiated in 1998, and Professor Speed is the fifth winner from the Walter and Eliza Hall Institute. Previous winners have included Professor Andreas Strasser (2011), Professor Peter Colman (2008), Professor David Vaux (2003) and Professor Don Metcalf (2000).
Further information:
Vanessa Solomon
Communications Adviser
P: +61 3 9345 2971
M: +61 431 766 715
E: solomon@wehi.edu.au