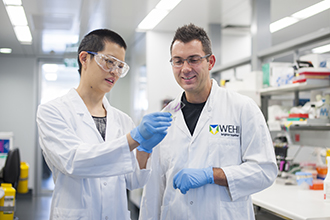 WEHI – the Walter and Eliza Hall Institute of Medical Research – is shining a spotlight on its commitment to collaboration and long-term scientific discovery as we launch our new brand.
The institute has more than 1100 staff and students making fundamental discoveries to advance treatments for cancer, infectious and immune diseases, developmental disorders and age-related conditions, helping people live healthier for longer.
At WEHI we bring together the brightest minds from around the world to collaborate and innovate, and shine a light on some of humanity's biggest health challenges.
Making an impact
WEHI director Professor Doug Hilton said the new image and name better reflected the WEHI that its staff, students and supporters knew.
"What I love about this new way of representing WEHI is that it pays tribute to our heritage, while also bringing a contemporary look that reflects the dynamic medical research we are known for," Professor Hilton said.
"WEHI isn't just a place where discoveries are made, it's where scientific theories are debated, investigated, pursued and celebrated. This is how we will continue to make impactful discoveries into the future."
Committed to collaboration and discovery
WEHI was unique in its commitment to collaboration and long-term discovery, Professor Hilton said.
"Our tagline – brighter together – encapsulates what I felt when working alongside Don Metcalf, Nic Nicola and their team, who collaborated for more than 30 years to discover and characterise the blood cell hormones called colony stimulating factors that have saved hundreds of thousands of lives.
"I love the fact that at WEHI you see 20-year-olds working alongside 40-year-olds, 60-year-olds and 80-year-olds all from diverse backgrounds, each respected and valued for the work they do and the ideas they bring. It's a long-term and passionate commitment to solve complex health problems in a wholehearted way. It's something I feel truly sets us apart," Professor Hilton said.
WEHI has a 100-year history of achievement, from discoveries in polio and influenza that informed the development of vaccines, to fundamental immunology research that is informing immunotherapy and COVID-19 research, to discoveries about cell death that led to new anti-cancer drugs.
Fundamental to those successes were collaborative teams – within WEHI, across research institutes, universities, hospitals and industry, and the support of long-term partnerships with donors, consumers and government.
"We want the community to know about the exciting fundamental discoveries we are making, the new treatments and therapies we are developing to make a difference in people's lives, and the truly visionary people with bold and bright ideas who are working with us. We also want them to know that behind those achievements is a network of collaboration that makes these discoveries possible," Professor Hilton said.

This video is part of a campaign to show the impact of WEHI's medical research for the community, launching on 18 October.
Essential role of medical research
Professor Hilton said the COVID-19 pandemic had highlighted the essential role of medical research.
"Medical research is the path out of this pandemic and getting us back to a normal way of life. It's been really heartening to see the medical research community band together with universities, hospitals, industry, government and philanthropists, to respond to this health emergency," he said.
"I'm proud to say WEHI researchers are leading projects to discover new anti-viral treatments and antibody-based therapies, together with partners in Melbourne and NSW, and developing new and innovative technologies for rapid, on-the-spot testing of COVID-19.
"We are better and brighter when we work together – that's something that is really at the heart of the WEHI ethos. The way the research community has responded to this pandemic is a wonderful example of the collaborative spirit we embody."
Media inquiries
M: +61 475 751 811
E: communityrelations@wehi.edu.au