A new five-year strategic plan and announcement of the inaugural Metcalf scholars were the highlights of the Walter and Eliza Hall Institute's Annual General Meeting, held today.
Board president Mr Chris Thomas and institute director Professor Doug Hilton also recognised exceptional scientists who have won awards in the past year and thanked our supporters for helping us to achieve a number of exciting discoveries over the past year.
First Metcalf scholars announced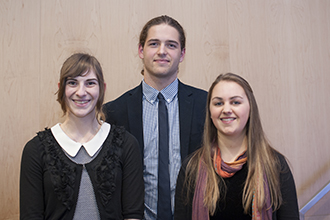 At the Annual General Meeting, institute director Professor Doug Hilton announced the first recipients of the Metcalf Scholarships, named in honour of the late Professor Donald Metcalf.
The first three Metcalf scholars announced were Ms Madeleine Dawson, Ms Kimberley Callaghan and Mr Adam Lipszyc. The scholarships will provide additional support to these promising young researchers studying at the institute.
Professor Metcalf devoted his 60-year career at the Walter and Eliza Hall Institute to improving our understanding of blood cell development, which led to a treatment that has helped more than 20 million people with cancer by boosting their immune system after treatment.
Professor Hilton said the scientific community would remember and pay tribute to Professor Metcalf's legacy for many decades to come.
"There is no better way to honour Don's memory than by encouraging the next generation of scientists," Professor Hilton said. "I know Don would be excited about the opportunities that young researchers will receive through this fund, just as he was supported as a young researcher."
Strategic Plan 2015-2020: a plan for shared success
The institute's new Strategic Plan 2015-2020 builds on past achievements, recognises future challenges and sets out to realise opportunities.
Mr Thomas thanked staff, students, consumers and precinct partners for their contributions in developing the plan.
"Our success is a shared success that can be attributed to our staff, students and support of the community," Mr Thomas said. "Our new strategic plan has been developed to support and inspire our staff and students to improve health outcomes in the community."
"In our centenary year, it is significant that we celebrate our history of discoveries. This strategic plan allows us to set a clear direction towards the next century of basic and translational research achievements."
Professor Hilton said the institute's new strategic plan would provide a guide for developing annual operational and improvement plans.
"Our progress depends on our ability to make an impact on health. Successful outcomes in basic research and translation will boost our capacity to do great science, attract and develop exceptional people, secure the support we need, and maintain a sustainable organisation," he said.
"The institute's board, staff and students are well aware of the challenges facing the Australian medical research sector. We have ensured our strategic plan focuses on goals that allow us to build on our strengths and respond to new challenges and opportunities."
Further information
Liz Williams
Media and Publications Manager
M: +61 428 034 089
P: +61 3 9345 2928
E: williams@wehi.edu.au