From 5-22 August, the Walter and Eliza Hall Institute of Medical Research will celebrate its centenary and National Science Week by bringing Melbourne's first Science in the Square festival to Federation Square.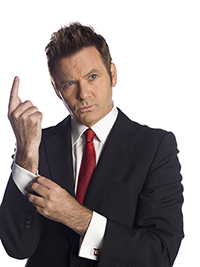 Science in the Square brings science to life through an illuminating program of comedy, film, theatre, art and public talks. The events will invite people with wide-ranging interests to engage with the wonders of science.
Walter and Eliza Hall Institute director Professor Doug Hilton said Science in the Square was a fun and engaging way to share the institute's insights and exciting innovations with the community.
"Science in the Square is all about exploring science in a way that everyone can be a part of," Professor Hilton said.
"As the first Australian medical research institute to reach its 100th birthday, National Science Week is the perfect opportunity to celebrate the rich history of scientific discovery in Australia with our community."
For 100 years, the Walter and Eliza Hall Institute has been making discoveries that have revolutionised scientific understanding – with a focus on cancer, immune disorders and infectious disease – and improved the lives of tens of millions of people in Australia and around the world.
The festival headline event on 15 August will mix science and live comedy talent in Walter and Eliza's Big Night Out. Hosted by Paul McDermott and written and directed by Matt Parkinson, the event promises learning, laughs and a look into the laboratory. The all-star cast includes Melbourne comedy royalty Rod Quantock, with live music from geek chic band Ologism.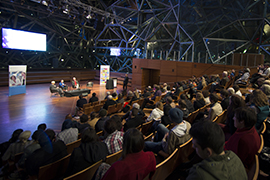 On the flipside, the dark and dubious world of science fiction is explored through Silver Screen Science. These free events will pick apart the actual from the absurd in Hollywood films, with the help of institute disease experts and Melbourne's talented writers, journalists and critics. Big-screen gems Contagion, Gattaca and Outbreak will be screened from 20-22 August, followed by an entertaining specialist panel discussion.
Talking Science on 19 August will investigate the future of healthcare with the topic 'will there ever be a cure for cancer'? Melbourne's leading cancer experts will discuss their vision of the future for cancer treatment, how realistic a 'silver bullet' cure for cancer is, and tangible new therapies that could be in the near future for patients.
Science in the Square program information
Art of Science Exhibition, 5–17 August, 9:30am – 5:30pm – free admission
Beautiful imagery created and captured by scientists.
Walter and Eliza's Big Night Out, 15 August, 7:30pm – $35 + booking fee
Join Walter and Eliza Hall on a journey of scientific discovery where science and comedy collide in a stage show with a twist.
Talking Science, 19 August, 7pm – free admission with registration
Will there ever be a cure for cancer?
Silver Screen Science, 20–22 August, 7pm – free admission with registration
Dissect the actual from the absurd in Hollywood science fiction.
Thanks to our Science in the Square partners: Federation Square, The Age, Australian Centre For Moving Image (ACMI), National Science Week and Melbourne Writers Festival.
Further information
Liz Williams
Media and Publications Manager
M: 0428 034 089
E: williams@wehi.edu.au