Two of Melbourne's most prominent medical research and drug development organisations, WEHI and CSL, have joined forces to create a Centre for Biologic Therapies.
The new Centre combines WEHI's expertise in immunology, cancer, inflammatory disorders and infectious diseases with CSL's world-class human antibody library and experience in biologic drug discovery and development, as one of the world's leading biotech companies.
Based at WEHI, the Centre will provide access to expert biologic discovery and optimisation capabilities accelerating drug development into the clinic, ultimately addressing a current gap in Australian medical research.
Biologics are made in living systems and encompass a wide range of therapies including monoclonal antibodies, vaccines, growth factors and cell therapies.
The Centre aims to generate high-quality and clinic-ready therapeutic antibodies against novel targets in human disease.
The partners will contribute equal funding to the Centre, with a combined investment of $10 million for the next five years.
Transformational impact on disease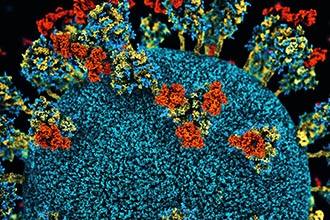 Biologics have had a transformational impact on treatment for cancer, inflammatory and immunological disorders and infectious diseases – most recently SARS-CoV-2.
The Centre for Biologic Therapies will deliver novel lead therapeutic candidates using CSL's human antibody phage display library and WEHI's nanobody platform, coupled with advanced antibody design.
WEHI Director Professor Doug Hilton AO said the expansion to biologic therapeutic development capabilities within the Centre would complement WEHI's existing translational capacity in small molecule drug discovery.
"The Centre is part of WEHI's commitment to collaborative, innovative research for discovery and translation to improve disease prevention, diagnosis and treatment," he said.
"It will also provide a boost to local jobs in manufacturing, academia, biotechnology, and clinical services and further strengthen Australia's reputation as a destination for medical research innovation."
"The current COVID-19 pandemic has shown us the great need for these types of facilities, which have helped us expedite the development of anti-viral treatments."
The development of the Centre follows an existing agreement between WEHI and CSL, which has enabled WEHI scientists to advance their research using CSL's human antibody library.
Professor Hilton said the development of the Centre for Biologic Therapies was a continuation of the long-standing relationship between WEHI and CSL.
"WEHI has a detailed understanding of biology and disease, while CSL has expertise in developing therapeutics, which is what makes this such a successful partnership," he said.
"We're incredibly grateful to have funding from the John and Mary Thompson Estates to support the establishment of the Centre."
Translating discoveries into treatments
CSL's Chief Scientific Officer, Dr Andrew Nash, said the effective translation of local discoveries into novel therapies for patients was vitally important.
"This expansion of our relationship with WEHI will help ensure that the long-term investment of public funds into medical research in Australia is translated, benefitting both patients and the Australian economy," he said.
"CSL's antibody library will be the engine room of biologics discovery at the Centre and, importantly, the knowledge transfer between the two organisations and the utilisation of shared assets, resources, and facilities will be of great value," Dr Nash said.
"The Centre will offer a place of learning and bespoke training opportunities for the next generation of Australian scientists – the future of Australia's biologics workforce," he said.
CSL Executive Vice President, Head of Research and Development and Chief Medical Officer, Dr Bill Mezzanotte, said the Centre would place Victoria at the forefront of biologics discovery.
"No matter how big you are and how much you spend on research and development, one company can never harness all the science and intellectual capital necessary to ensure a consistent positive flow of new, meaningful innovation.
"This partnership allows both organisations to access additional external expertise," Dr Mezzanotte said.
"The Centre is an interface of innovation between research and industry and sets the foundations for significant growth in the Australian biologics discovery and development space that has the potential to create opportunities for researchers locally and innovative medicines for patients globally," he said.
The development of the Centre for Biologic Therapies was made possible with the assistance of philanthropic support from the John and Mary Thompson Estates.
---
Media inquiries