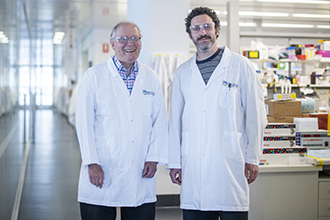 Combining a new anti-cancer drug targeting Mcl-1 with current cancer therapies could be an effective strategy for treating aggressive lymphomas, new research has found.
Cancer researchers from the Walter and Eliza Hall Institute treated patient-derived mantle cell lymphomas with an Mcl-1 inhibitor, alone or together with approved targeted cancer drugs ibrutinib or venetoclax. The results showed that the treatments, particularly the combination therapy, could kill the cancer cells in tissue culture and preclinical models.
The study, led by Dr Michael Dengler and Professor Jerry Adams in collaboration with Institute colleagues, was published in the journal Oncogene.
At a glance
Mantle cell lymphomas are aggressive blood cancers that remain incurable with standard therapies.
Our researchers have shown that Mcl-1 inhibitors, alone or in combination with approved targeted cancer drugs, could be an effective new therapy option for mantle cell lymphomas.
Targeting Bcl-2 family members, which include Bcl-2 itself and Mcl-1, has proven to be a very effective strategy for treating cancers.
An aggressive disease
Dr Dengler said mantle cell lymphoma was an uncommon but aggressive type of lymphoma with a poor prognosis.
"People with mantle cell lymphoma typically respond well to therapy at first, but then relapse and exhaust treatment options pretty quickly," Dr Dengler said.
"Mantle cell lymphoma is currently incurable with standard chemotherapy, so new treatments are urgently needed for patients with this aggressive disease."
In the new study, the research team used mantle cell lymphoma tissue donated by patients to trial anti-cancer treatment combinations in the laboratory.
"The results were very promising. The Mcl-1 inhibitor could effectively kill not only the cells in our mantle cell lymphoma cell lines, but also in tumours freshly isolated from patients and in preclinical models. Combining the Mcl-1 inhibitor with either the approved therapeutics venetoclax or ibrutinib further exacerbated the killing," he said.
"Our results suggest that treatment combinations using Mcl-1 inhibitors and other targeted cancer therapeutics could offer clinicians better options for treating mantle cell lymphoma patients and should be evaluated in clinical trials."
Signalling sabotage
Mantle cell lymphoma grows in lymph nodes, and the cancer cells receive signals from the tumour microenvironment that can promote their growth. Dr Dengler said the team established laboratory models that provided these signals to see what effect it would have on the therapies.
"We found that the Mcl-1 inhibitor alone was less effective when these tumour-promoting signals were present. However, the combination of Mcl-1 inhibitor and ibrutinib, or Mcl-1 inhibitor and venetoclax, was still very effective in killing the cancer cells," he said.
Testing how new anti-cancer drugs and treatment combinations perform in laboratory models is a crucial step toward clinical trials and eventual approval of new therapies, Dr Dengler said. "Without preclinical evidence, new treatments would not progress to clinical trials in humans."
Cell death and cancer
Mcl-1 is a member of the Bcl-2 protein family, which controls cell death (apoptosis). Since discovering the critical role of Bcl-2 in cancer development, Institute researchers have dedicated decades to understanding the complex interactions of Bcl-2 family members that determine whether a cell lives or dies.
Professor Adams said Mcl-1 inhibitors were currently in early stage clinical trials for treating several types of cancer, though data from these trials were not yet published.
"Targeting Bcl-2 family members has proven to be a very effective strategy for treating cancers, especially blood cancers," Professor Adams said.
"For example, venetoclax, which worked well in combination with the Mcl-1 inhibitor in our study, is now an approved cancer therapy for certain types of leukaemia that targets another family member, Bcl-2 itself.
"While our preclinical findings need to be validated further in preclinical and clinical trials, the results certainly look promising for mantle cell lymphoma."
He said Institute researchers had shown that Mcl-1 played a critical role in maintaining the relentless growth of a number of cancers.
"The utility of Mcl-1 inhibitors could well extend beyond lymphoma and blood cancers, though further testing is required to provide more evidence," Professor Adams said.
Patient samples were provided by the Metro South Health Cancer Collaborative Biobank, Brisbane. The research was supported by the Australian National Health and Medical Research Council, Cancer Council Victoria, CASS Foundation, Leukaemia Foundation Australia, Leukemia and Lymphoma Society (US), Victorian Cancer Agency and the Victorian Government. All authors are employees of the Walter and Eliza Hall Institute, which receives milestone and royalty payments related to venetoclax. Some study co-authors have received research funding from Servier.
Media enquiries
M: +61 475 751 811
E: communityrelations@wehi.edu.au