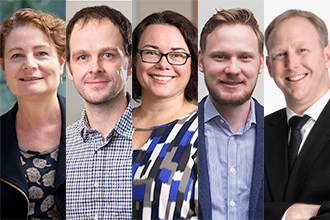 The National Drug Discovery Centre is pleased to announce the selection of five projects that will now receive generous Australian Government subsidies to support high-throughput screening campaigns.
The National Drug Discovery Centre (NDDC) provides researchers in Australia with access to the latest in advanced robotic high-throughput screening, accelerating the progression of breakthrough Australian discoveries into new medicines and helping to ensure that patients can benefit from novel treatments sooner.
At a glance
Five new projects have been announced as beneficiaries of Australian Government subsidies to access the National Drug Discovery Centre, an important step towards the development of new medicines.
The projects will use the centre's advanced technologies to find new treatments for immunofibrotic diseases, Parkinson's disease, inflammatory bowel disease (IBD) and numerous cancers including breast cancer.
New therapies for patient treatment
Associate Professor Pieter Eichhorn, from Curtin Health Innovation Research Institute in Perth, and Professor David Komander from WEHI, will spearhead a team to develop new drugs focused on an overactive deubiquitinase (DUB) enzyme identified in breast cancer. An inhibitor targeting this DUB could eventually become a new anti-cancer drug benefitting a wide range of patients.
Associate Professor Michael Griffin from the Bio21 Molecular Science and Biotechnology Institute at The University of Melbourne, and Dr Tracy Putoczki from WEHI, have identified an opportunity to develop first-in-class drugs with the potential to reprogram tissue microenvironments and limit fibrogenic processes, thereby preventing disability and mortality that occur as a result of immunofibrotic disease progression. This will serve as a new therapeutic opportunity for numerous debilitating diseases, including cancer.
Dr Daniel Whiten from the Kolling Institute, a joint venture between The University of Sydney and the Northern Sydney Local Health District, will lead a campaign to identify compounds that can help improve neuronal health in Parkinson's disease patients.
Associate Professor Sandra Nicholson, of the Inflammation Division at WEHI, will lead a project on a new class of medicines called protein degraders, which work by destroying target proteins (rather than just inhibiting a specific activity) and promise to transform drug development. This proposal will seek to generate targeted protein degradation technology that may subsequently offer innovative new approaches for cancer treatment.
Dr Terrie-Anne Cock, Head of Biology at UniQuest's drug discovery and development initiative, QEDDI, at The University of Queensland, will lead a project concerned with finding new treatments for inflammatory diseases including inflammatory bowel disease (IBD). The prevalence of IBD is increasing and the treatments available pose several problems for long-term use. Taking a novel, first-in-class approach, this work will aim to overcome these issues and lead to safe and efficacious treatment of IBD and other inflammatory diseases.
NDDC marks it first year
March sees the NDDC commemorate its official first year of operating. The centre was launched on 12 March 2020 by Australian Minister for Health the Hon. Greg Hunt MP and former Victorian Minister for Health the Hon. Jenny Mikakos MP.
That same day, the World Health Organization declared COVID-19 a pandemic. Only six weeks later, WEHI staff used the MX2 beamline at the Australian Synchrotron to solve the structure of one of the SARS-CoV-2 virus's key enzymes, the papain-like protease. Our high-throughput robotic screening lab then tested more than 400,000 compounds to find starting points for new drugs specifically aimed at blocking that viral enzyme.
This contribution to critical coronavirus research was made possible by the support of the Medical Research Future Fund (MRFF), which provided expert scientific staff, and the Victorian Government for the purchase of cutting-edge robotic equipment. Prior to the establishment of the NDDC, Australia did not have a facility that could perform work on this scale.
Australian researchers now have access to specialist high-throughput screening, which is one of the first steps in translating new biological discoveries into new medicines. This enables the rapid analysis of hundreds of thousands of test compounds to assess their worth as starting points for new medicines. During 2020, six research projects from around Australia were announced as beneficiaries of MRFF funding to support high-throughput screening campaigns.
Next round
Round 4 applications for subsidised high-throughput screening are now open. The current round will close on 21 July 2021, and our independent expert panel will commence their project selection during August. Successful applicants will be notified in September. Read about how to apply.