On World Water Day, Melbourne Water and the Walter and Eliza Hall Institute have announced a joint research fellowship designed to improve the identification and control of water-borne illness.
Melbourne Water is funding a five-year Centenary Fellowship at the Institute, which will enable researchers to focus on developing low-cost, field-based diagnostic tools for use in Australia and internationally.
Improving health at home and abroad
Melbourne Water's Manager, Applied Research, Dr Judy Blackbeard, said illnesses associated with poor water quality remain a significant health problem worldwide.
"The Melbourne Water Centenary Fellowship will support researchers at the Walter and Eliza Hall Institute to find new ways to monitor disease-causing organisms in water," Dr Blackbeard said.
"Developing innovative methods of identifying and controlling these organisms has real potential to improve health outcomes, not only in remote parts of Australia, but also across the world.
"We are very proud to be part of such an important project that will have local and global health benefits," she said.
Combatting waterborne diseases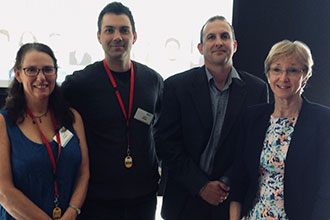 Waterborne diseases such as diarrhoea form a significant health problem worldwide, accounting for hundreds of thousands of deaths annually, the majority of them children under five. Increasing climate change, and the resulting disruptions to global rainfall patterns, are set to worsen the situation.
The Melbourne Water Centenary Fellowship has been awarded to Dr Louise Baker, who works in Associate Professor Aaron Jex's laboratory at the Institute. Dr Baker has extensive experience researching gastro-intestinal infections.
The research project supported by the Melbourne Water Centenary Fellowship will specifically focus on water contamination by blue-green algae, gastrointestinal pathogens and mosquito larvae.
Improving health through research
Dr Baker's first challenge will be to develop better diagnostic tools to be used in the field to detect toxin-producing blue-green algae. Currently it is not possible to tell toxic from non-toxic varieties using a microscope.
Blue-green algal explosions or 'blooms' choke fresh waterways of oxygen, killing fish and potentially producing a variety of toxins that can result in symptoms in animals and humans including respiratory issues, paralysis and numbness, damage to liver tissue and cancer.
These massive blooms, an increasing problem in Australia, have a 'knock-on' economic effect causing the shutdown of fishing and recreational areas and lost production for agricultural industries relying on harvesting water for crops or animals. The Murray River outbreak in 2015 affected 600 kilometres of waterway.
Dr Baker acted as a lead scientist on a project in 2013 showing that 50 per cent of cases of blue-green algal blooms were not toxic. Knowing whether or not a bloom is toxic can have a significant impact on the type of restrictions put in place for public health and other reasons.
The second phase of the program will investigate better detection and diagnostic tools for waterborne gastrointestinal infectious diseases, focussing on those causing diarrhoea.
A third – and novel – project will look at ornamental waterways such as canals and lakes in suburban housing estates assessing their design as potential breeding grounds for mosquitoes that may act as vectors of infectious diseases.
Media enquiries
M: +61 475 751 811
E: communityrelations@wehi.edu.au