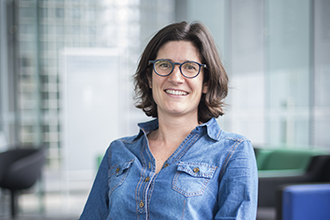 Dr Marie-Liesse Asselin-Labat has been awarded the Australian Academy of Science's 2018 Nancy Millis Medal for Women in Science.
The award recognises Dr Asselin-Labat's research achievements in lung biology and cancer.
At a glance
Dr Asselin-Labat leads an Institute research team investigating lung development and diseases such as lung cancer and emphysema. 
The Australian Academy of Science's Nancy Millis Medal is awarded to outstanding female researchers in natural sciences who have demonstrated exceptional leadership.
Understanding lung diseases
The intricate structure of our lungs is critical for breathing. Dr Asselin-Labat's research has investigated how this structure is generated in the embryo. Defects in lung development, or incomplete lung development, can cause respiratory failure in newborns, particularly premature babies.
Dr Asselin-Labat also leads investigations of how lung cancers arise from defective cells, a process that has similarities to embryonic lung development. This has enabled her team to develop new lung cancer models that have allowed the discovery of new approaches to treating lung cancer.
Recent research highlights have included:
Nancy Millis, a scientific pioneer
The Australian Academy of Science awards the Nancy Millis Medal to female mid-career researchers in life sciences who independently lead a research program, and have demonstrated exceptional leadership. The award honours Professor Nancy Millis AC MBE FAA FTSE (1922 – 2012), a microbiologist at the University of Melbourne who held numerous leadership roles.
Dr Asselin-Labat said Professor Millis was a role model for female leaders in science. "I am extremely honoured to be receiving this prestigious award," she said.
"Looking at Professor Millis' life and career, I can only be inspired by her leadership and mentoring of young scientists. I hope this award will inspire other young women scientist to pursue scientific research as a career."
The power of teamwork
Dr Asselin-Labat said the award recognised the diverse efforts of her research team and collaborators. "I would like to acknowledge the wonderful work of current and past lab members, as well as all my collaborators within and beyond the Institute," she said. "Without them my research would not have been possible.
"I thoroughly enjoy working with people with diverse expertise. Being able to work in a multidisciplinary environment is extremely rewarding and this award reflects the success of this approach. 
"I am also grateful for the support of the Institute's professional services staff, who make our lives as scientists so much easier and enable us to focus on our research," she said.
"This award would also have not been possible without funding at different stages, which was particularly important when I was a young lab head establishing a lung cancer research program at the Institute, a new challenge for me," Dr Asselin-Labat said. 
Dr Asselin-Labat has received the following significant research funding support and awards:
Lung Foundation Australia
Australian Cancer Research Foundation
Viertel Fellowship
L'Oreal For Women in Science
The Centenary Institute Lawrence Creative Prize
Eureka Prize for an Outstanding Young Researcher
Worldwide Cancer Research
The Harry Secomb Foundation
Cancer Therapeutics CRC
National Health and Medical Research Council
Victorian Government
Find out more
Media enquiries
M: 0475 751 811
E: communityrelations@wehi.edu.au