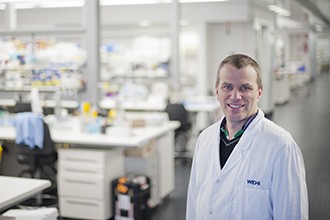 The Walter and Eliza Hall Institute has joined the Asia Pacific Malaria Elimination Network (APMEN), an international collaborative network working towards eliminating malaria in the Asia-Pacific region.
APMEN is composed of 15 Asia-Pacific country partners that are pursuing malaria elimination, as well as regional partners from the academic, development, non-governmental and private sectors and global agencies, including the World Health Organization.
The network is bringing attention and support to the under-appreciated and little-known work of malaria elimination in Asia-Pacific, with a particular focus onPlasmodium vivax.
Professor Ivo Mueller, malaria researcher and laboratory head at the Walter and Eliza Hall Institute, said the institute's role in the partnership would be to develop and implement tools to aid malaria elimination programs throughout the Asia-Pacific.
"At the institute, we are already working on innovative tools for measuring and tracking malaria transmission and infections," Professor Mueller said. "In developing these new tools, the most important thing is to work closely with malaria-endemic countries to ensure that the tools will be useful and usable for them. The network is a formal step towards working with countries to meet their requirements, as well as informing our future research and translation of our research to help eliminate malaria in the region."
APMEN has a specific focus on the malaria parasite Plasmodium vivax, one of the four species of malaria found in humans, and a particular burden in the Asia-Pacific region. Though Plasmodium vivax has in the past been considered a 'benign' form of malaria, studies have shown that it is a significant cause of disease in the Asia-Pacific.
Professor Mueller said the institute was already working with APMEN on the evaluation of malaria treatment protocols in the Solomon Islands and Vanuatu, to help inform future elimination programs.
"Plasmodium vivax is the most common species of human malaria, and a major cause of clinical cases of malaria outside of Africa," Professor Mueller said. "It is particularly insidious because it can lay dormant in the liver, causing relapses months or years after treatment, and continuing the cycle of transmission. We are excited to be part of APMEN to help lead global efforts to eliminate this serious and potentially deadly form of malaria."
Malaria is caused by Plasmodium parasites, which are transmitted to humans through the bite of an infected mosquito. There are more than 200 million cases of malaria worldwide each year, and around 627,000 deaths from malaria, mostly among African children.
The institute began its research program into malaria more than 30 years ago, with the aim of developing new vaccines and antimalarial treatments to prevent and halt the spread of malaria.
The program now has more than 70 researchers dedicated to studying the malaria parasite, how it infects the body and evades the immune system, and how it spreads in malaria-endemic countries. Institute scientists collaborate with researchers in many malaria-endemic countries including Papua New Guinea, the Solomon Islands and Thailand.
Further information:
Liz Williams
Media and Publications Manager
P: +61 3 9345 2928
M: +61 428 034 089
E: williams@wehi.edu.au