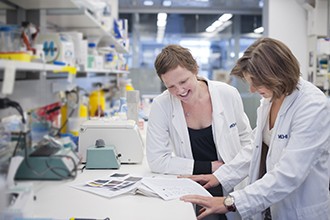 The Walter and Eliza Hall Institute was the highest-ranked medical research institute in Australia in the latest Nature Publishing Index 2013 Asia-Pacific report, released today.
The index ranks institutions and countries according to the number of research articles published by their researchers in Nature-owned journals.
The institute climbed to eighth place in the Australian rankings, and 33rd place in the Asia-Pacific region in the 2013 rankings, with a 250 per cent increase in papers published in the Nature journals.
The index highlighted Australia's strength in immunology, with the Walter and Eliza Hall Institute ranked second overall in publications in the journal Nature Immunology. Four of the five top organisations contributing to Nature Immunology were from Australia.
The report cited a research project by Ms Lucie Rankin, Dr Joanna Groom and Associate Professor Gabrielle Belz as receiving international interest. The paper discovered a mechanism by which an immune cell population essential for intestinal health could be controlled by leafy greens in people's diets.
Other significant research that was published by institute researchers in Nature journals in 2013 included:
A landmark discovery about how insulin docks on cells, which could help in the development of improved types of insulin for treating both type 1 and type 2 diabetes.
The discovery of a gene essential for survival of antibody-producing cells, which could lead to better treatments for diseases where these cells are out of control, such as myeloma and chronic immune disorders.
Uncovering the molecular mechanism by which cell signalling proteins prevent inflammation, which could have applications for people with blood disorders and cancers.
Institute director Professor Doug Hilton said he was pleased to see the institute improving its international standing in high-quality basic research. "The institute has a long and distinguished reputation in immunology research, which began in the 1950s and continues today," Professor Hilton said.
"The institute is committed to improving lives, and these fundamental research discoveries are the kind of breakthroughs that, in the long-term, could lead to treatments or strategies that will make a real difference in the lives of people in the community."
Australia retained third place, behind Japan and China, in the Asia-Pacific region in the latest rankings, improving its contribution to Nature journals by more than 50 per cent in 2013.
More information:
Liz Williams
Media and Publications Manager
T: 03 9345 2928
M: 0428 034 089
E: williams@wehi.edu.au