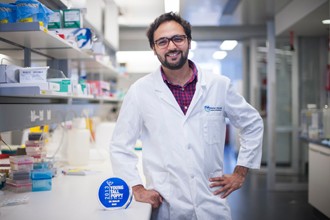 Walter and Eliza Hall Institute medical researcher Dr Shalin Naik has tonight been named the 2013 Victorian Young Tall Poppy of the Year by theAustralian Institute of Policy and Science, for his research into how the immune system develops.
Dr Naik's research focuses on discovering how stem cells in the bone marrow divide and change into immune cells that work together as a team to protect the body from infections.
Dr Naik, who is a laboratory head in the institute's Molecular Medicine division, said maintaining the right balance of immune cells in the body was critical to our health. "The blood cancers leukaemia and lymphoma can be caused by the uncontrolled growth of immune cells," he said. "Conversely, people who have too few immune cells have problems with fighting infection. It is really important to understand how immune cells are formed so we know what goes wrong in a range of diseases. Once we know what goes wrong, the next step will be to work out how to fix the problem.
"Until recently, everyone thought that all the different types of immune cells came from the same stem cells in the bone marrow. I have been testing this assumption using an exciting new technique called 'barcoding' that allows us to follow individual stem cells to find out which cells they can develop into – a bit like how a courier service tracks packages," Dr Naik said. "We have been really excited to discover very recently that stem cells do appear to be programmed to only produce certain immune cells, which has the potential to upend many of the existing theories about immune cell production."
The Young Tall Poppy awards recognise researchers who, as well as displaying notable scientific achievements, have enthusiastically communicated their research to the wider community. Dr Naik was one of eight finalists to be selected from the Victorian scientific community.
The director of the Walter and Eliza Hall Institute, Professor Doug Hilton, said Dr Naik was very deserving of the Young Tall Poppy award. "I have followed Shalin's career for many years, and have been delighted to see him mature into an independent scientist who can insightfully combine classical immunology with newly developed technology," he said.
"Importantly, as well as being an outstanding scientist, Shalin has gone beyond the classic academic avenues of communicating his research and has been very active in a wide range of outreach activities. I am confident that his passion, commitment and courage to venture into new fields will secure him a place among our nation's next generation of scientific leaders."
Dr Naik said the award was of special significance because he believed that communicating science to the public, particularly school students, was vital. "Science communication is something I am not only passionate about, but I believe is our responsibility," he said.
"Scientists need to get out there and explain to people why their research is so important. We have the power to stimulate the curiosity of kids today to be the scientists of tomorrow," Dr Naik said.
Further information:
Vanessa Solomon
Communications Adviser
P: +61 3 935 2971
M: +61 431 766 715
E: solomon@wehi.edu.au