Dr Najoua Lalaoui and Dr Shalin Naik have been jointly awarded the 2021 Burnet Prize, WEHI's top science prize, for their pioneering research to understand cell death mechanisms and the clonal fate of specialised immune cells, respectively.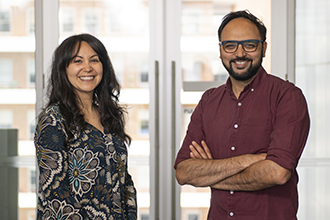 Dr Lalaoui was recognised for her achievements in cell death research, particularly her role in the discovery and identification of the genetic cause of a previously unknown human autoinflammatory disease.
Dr Naik received the award for work on defining the clonal fate of dendritic cells, particularly the use and development of novel single cell methods, barcoding and lineage tracing.
Their findings have the potential to lead to innovative new treatment options for inflammatory diseases and precision cancer immunotherapy treatments.
 At a glance
The 2021 Burnet Prize has been jointly awarded to Dr Najoua Lalaoui and Dr Shalin Naik in recognition of their pioneering research.
Dr Lalaoui was instrumental in discovering a new autoinflammatory disease, called CRIA syndrome, and the mutation in the cell death molecule that drives the condition, giving new treatment hope for inflammatory diseases.
Dr Naik developed a virtual 'time machine' to study blood stem cell fate at a single cell level, making critical discoveries about dendritic cells as well as the platform for studying other cell types.
Cell death and disease
Dr Lalaoui revealed the autoinflammatory disease she discovered, called CRIA syndrome, is caused by a mutation in a critical molecule in the cell death pathway – RIPK1 – which leads to runaway inflammation and cell death.
The collaboration, with colleagues at the National Institute of Health, US, shed an important light on the role of cell death in inflammatory diseases. Dr Lalaoui said it also identified RIPK1 inhibitors as a potential treatment for these conditions.
"RIPK1 inhibitors, which are in development, could now be used as 'personalised medications' for people suffering from CRIA syndrome and other inflammatory diseases, where the RIPK1 function is deregulated. Our discovery that RIPK1 regulates non-inflammatory and inflammatory cell deaths have challenged the prevailing dogma on the crosstalk between different cell death pathways," she said.
Dr Lalaoui acknowledged the role her colleagues played in her receiving the award. "While this collaborative work with US researchers has been a fantastic journey, this research could not have come to fruition without the diverse expertise of my WEHI colleagues," she said.
Determining immune cell fate
Dr Naik has consistently pursued questions of immune cell fate for 20 years. One particular focus is dendritic cells, 'sentinel' cells essential for responding to viral infections such as COVID-19 and some cancers. He is also a keen science communicator; Dr Naik co-developed and hosts the coronavirus podcast The Jab Gab, was co-host of ABC TV series Ask the Doctor, and has appeared in Searching for Superhuman and The Great Acceleration.
​Dr Naik's research team developed a virtual 'time machine' to map blood stem cells as they divide and develop into dendritic cells using innovative tools and techniques that they developed. Dr Naik was able to create a single-cell 'barcoding' technique to follow dendritic cells as they divide and the relationship between molecular events inside cells and the encoded cell fate of daughter cells many divisions later.
He said understanding how individual blood stem cell behaves, and the genes that control this behaviour could allow scientific experts to one day manipulate the number of immune cells to their advantage.
"For example, we could ramp up cell numbers based on this knowledge to eventually boost the number of immune cell types that are low in some immune deficiencies, infections and cancers. Alternatively, we could use the information to slow the growth of leukaemias that hijack these normal processes and generate cancer.
"We hope this method can help discover the 'big bang' moment in cancer development in the near future, to create new drug targets to fight cancer and improve immunotherapy," he said.
Dr Naik said WEHI had provided him with the motivation to crack these age-old questions.
"I cannot stress the importance of my talented colleagues and collaborators. WEHI is a melting pot of skills and knowledge, which is what makes working here such a joy. Above all, the aspect I value most about WEHI's legacy is the ability to challenge," he said.
Celebrating discovery
WEHI director Professor Doug Hilton commended the two researchers for their valuable scientific contributions that could pave the way for improved treatments and diagnoses.
"Najoua and Shalin are outstanding scientists and worthy recipients of this award," Professor Hilton said.
"Najoua's work has changed the way we think about the role of cell death in human inflammatory disease, and she has made an exceptional contribution through her own studies and her generous contributions to the work of others. Shalin has pursued single cell methods that have orchestrated unique and valuable discoveries that will inspire other scientists to make new and exciting discoveries.
"Both researchers embody the values of WEHI in their talent, pursuit of excellence, collaborative spirit and commitment to research that could improve the lives of Australians and people across the world."
The Burnet Prize is awarded annually to early-career scientists who have produced pioneering research. It was established in 1987 from a bequest of former WEHI director Sir Frank Macfarlane Burnet. Winners receive a specially commissioned engraved bronze plaque created by Melbourne sculptor Michael Meszaros.
---
Media inquiries
M: +61 475 751 811
E: communityrelations@wehi.edu.au