Harnessing the immune system to treat childhood brain cancer is a step closer thanks to funding from Carrie's Beanies 4 Brain Cancer Foundation.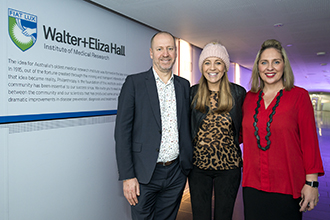 Dr Misty Jenkins was awarded a Carrie's Beanies 4 Brain Cancer Foundation grant to study how retraining the body's own immune system could be the key to new treatment for children with brain cancer.
Immunotherapy – treatments that harness the body's own immune system to fight their cancer – is a breakthrough cancer treatment that has led to significant improvements in treating cancers such as melanoma and lung cancers.
Dr Jenkins is investigating whether immunotherapy could have the same impact in childhood brain cancer.
"Brain cancer has very high mortality rates, has had no new therapies in decades, and quickly becomes resistant to the treatments that are available," Dr Jenkins said. "It's exactly the type of disease that could potentially benefit from immunotherapy."
Dr Jenkins said the funding would enable her team, in collaboration with Dr Jordan Hansford from The Royal Children's Hospital, to investigate a type of immunotherapy in which a patient's immune cells are isolated, genetically modified to become 'super killer cells', and reinfused to fight their cancer.
"This therapy is an innovative way to co-opt and tailor white blood cells, called T cells, to kill cancer cells, particularly where all other treatments have failed," she said.
"What makes the approach so unique is that the T cells are genetically engineered to kill only the cancer cells, leaving healthy neighbouring cells alone."
Dr Jenkins said the approach had shown incredible clinical promise in people with leukaemia, providing long-term treatment responses in these patients. However, there has been less groundwork in brain cancer.
"This funding will help us to investigate how we can tailor immunotherapies to the brain in order to kill tumour cells but limit inflammation and other detrimental side effects. Ultimately, we'd like to contribute this innovation to an area that could have the biggest impact – benefiting sick kids and their families," she said.
Media enquiries
M: 0475 751 811
E: communityrelations@wehi.edu.au