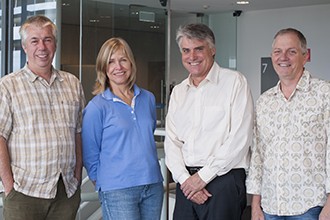 Five researchers from the Walter and Eliza Hall Institute have been announced as finalists in three categories for the 2014 Australian Museum Eureka Prizes.
The institute finalists are:
Professor Terry Speed was nominated for his leadership in the growing field of bioinformatics, which involves applying statistical tools to data gleaned from biological experiments, such as analysing genetic information. Professor Speed said he was humbled to be recognised for his contribution.
"Our bioinformatics team at the institute has grown in the past 17 years from only me to more than 40 people," Professor Speed said. "This expansion in knowledge and expertise has allowed us to contribute to a vast range of research projects, from understanding the malaria parasite to examining which gene defects drive cancer growth."
Associate Professor Lynn Corcoran's role in mentoring young researchers and facilitating career progression for female scientists led to her nomination for the Eureka Prize. Associate Professor Corcoran said she was driven to inspire the next generation of medical researchers.
"I think it is important to inspire students to pursue careers in biological science and encourage more women to stick with medical research," Associate Professor Corcoran said. "We're taking some big steps in gender equality by breaking down the barriers that prevent talented female researchers from entering senior scientific roles."
Professor Phil Hodgkin and his colleagues from the 'B cell team' – Professor Stephen Nutt, Associate Professor Lynn Corcoran and Professor David Tarlinton – were cited for their contributions to understanding how our immune system protects us from infection.
Professor Hodgkin said the team came together to share knowledge, expertise and experimental techniques, enabling them to approach their research from a new angle. "B cells play a key role in the immune system's response to infection, though little has been known about how they develop and why they exist in the body for remarkably long periods of time," Professor Hodgkin said. "By coming together to tackle this problem differently we've managed to make a number of discoveries that could improve vaccines."
Institute director Professor Doug Hilton said it was gratifying to see the five scientists gain national recognition for their achievements. "All of these researchers have made outstanding contributions," Professor Hilton said.
"Terry is a remarkable researcher, as demonstrated by being one of the most higly cited Australian scientists in the fields of mathematics, biochemistry and molecular biology.
"Lynn is an incredible mentor for the next generation of scientists, and our 'B cell team' of Phil, Stephen, Lynn and David have made significant discoveries about our immune system over the past decade that have driven forward our understanding of the body and its response to infection and disease."
The Eureka Prizes are presented by the Australian Museum and rewards excellence in the fields of research and innovation, leadership, school science, and science communication and journalism. The winners of the Eureka Prizes will be announced at a gala dinner in Sydney on Wednesday 10 September 2014.
Further information:
Alan Gill
Science Communications Officer
P: +61 3 9345 2719
E: gill.a@wehi.edu.au