Associate Professor Melanie Bahlo has been awarded the 2015 Ross Crozier Medal from the Genetics Society of Australasia for her contributions to pinpointing faulty genes involved in human diseases.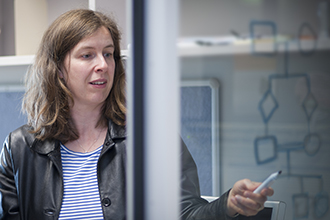 Associate Professor Bahlo has spent more than 15 years making fundamental contributions in population genetics, genetics and bioinformatics. Her work has found the genes responsible for illnesses such as epilepsy, ataxia, a neurological disorder that affects muscle control, and mitochondrial disease, a debilitating condition culminating in organ failure.
Combining her expertise in genetics and statistical data analysis has been the key to finding the mutant genes responsible for diseases that had, until recently, stumped researchers. She has directly contributed to discovering 22 genes that are involved in human disease, particularly genetic brain disorders.
With long-time collaborator and epilepsy researcher Professor Sam Berkovic from The University of Melbourne, Associate Professor Bahlo has discovered the main genes involved in some types of progressive and genetic brain disorders. Associate Professor Bahlo led the critical bioinformatics analysis that pinpointed the genes responsible for the fatal neurodegenerative diseases progressive myoclonus epilepsy and adult neuronal lipofuscinosis.
Her work has also contributed to the discovery of genes involved in mitochondrial diseases, leading to kidney failure, and identifying genetic variations that can alter the immune response to hepatitis C viruses, leading to a revolution in hepatitis C treatment.
Associate Professor Bahlo said finding the genes that cause disease is like finding the needle in the proverbial haystack. "Pinpointing the faulty gene that causes the disease out of the 20,000 genes and three billion DNA base pairs in human DNA is a numerically daunting task," she said.
Associate Professor Bahlo's work has also contributed to improved bioinformatics methods for the diagnostic screening for Down Syndrome using cell-free DNA from the mother's blood.
"We developed a method of tweaking the computational analysis to tune out unwanted noise that could hide signals that indicate chromosomal abnormalities," Associate Professor Bahlo said. "This has been implemented in a cheaper local screening test with better accuracy."
Now joint head of the institute's new Population Health and Immunity division, Associate Professor Bahlo said she enjoys using her bioinformatics and statistical background to solve real-world problems. "Our analysis of data produced by new genomic technologies is identifying genetic causes for diseases that have previously proven intractable to analysis," she said. "And the analytical methods and software we develop is freely available to others, aiding many research fields."
The Ross Crozier Medal recognises outstanding contributions to the field of genetics research by a mid-career Australasian researcher. The medal commemorates Ross Crozier, an evolutionary geneticist who was a past president and an avid lobbyist for the Genetics Society of Australasia.
Further information
Liz Williams
Media and Publications Manager
M: 0428 034 089
E: williams@wehi.edu.au