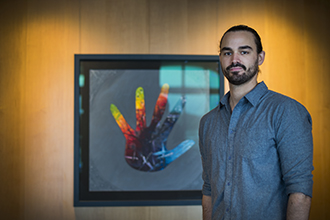 Dr Jason Brouwer, a Walter and Eliza Hall Institute researcher and campaigner for social equality, has been named as a finalist for the 2018 3M Eureka Prize for Emerging Leader in Science.
The nomination recognises Dr Brouwer's leadership in and contributions to reconciliation and gender equality initiatives.
Dr Brouwer, whose research focuses on understanding cell death at the molecular level, is the co-chair of the Institute's Reconciliation Committee and serves on the Institute's Diversity and Inclusion Steering Committee and Athena Swan Science in Australia Gender Equity self-assessment team.
Dr Brouwer said he was honoured to be nominated for a Eureka Prize. "However, I'm uncomfortable because the real hard work is being done everyday, in the absence of privilege, by people who live with inequities – the inequities I wish to challenge," he said.
Dr Brouwer said the work he does in challenging inequality is a product of listening to, learning from and acting on the voices of the people who experience all kinds of oppression.
"This guidance has genuinely changed my life and continues to change the way I see our world. I am humbled by the generosity that has been shown to me, and I want to acknowledge and thank everyone I continue to learn from," he said.
"I see science as incredibly exciting, powerful and beautiful, and as something that all members of our community should have equal opportunity to engage with, benefit from and contribute to.
"I want to challenge and inspire our scientific institutions to deconstruct social inequities and embrace diversity," Dr Brouwer said.
"I want to see a society where the cultures and knowledges of our First Nations peoples are championed, where regardless of gender or socioeconomic position there is equal opportunity to shape scientific discovery and our world."
Institute director Professor Doug Hilton AO said Dr Brouwer had been a strong advocate for diversity and equality not only within science but more broadly in Australia.
"In addition to being an outstanding scientist, Jason has shown an exceptional commitment to making scientific institutions more accessible, inclusive, responsible and accountable to everyone in the Australian community," Professor Hilton said.
"His endeavours demonstrate his commitments and passion to making significant sustainable changes for his community. The proverb 'actions speak louder than words' embodies his approach to every role he takes on and is the very reason he inspires other people to follow his lead."
Since 2013 Dr Brouwer has also worked with Titjimbat, a not-for-profit organisation that facilitates community development programs in remote communities in the Northern Territory, which are co-deigned and co-led by community members. He currently serves on the Titjimbat management committee, where he is the Partnerships and Engagement Manager.
The managing director of Titjimbat, Ms Natasha Ritchie, said Dr Brouwer had irrevocably benefitted Titjimbat, playing an essential role in transforming the organisation into a leading example of responsible practice and genuine reciprocity.
"Jason genuinely lives out his values in a way that is inclusive and inspiring. His leadership has had an immeasurable impact on the individuals, projects and organisations that have been fortunate enough to engage with him," she said.
Media enquiries
M: +61 475 751 811
E: communityrelations@wehi.edu.au