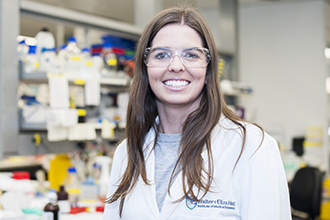 Walter and Eliza Hall Institute PhD student Ms Emma Nolan has been awarded the inaugural Professor Joseph Sambrook PhD Student or Postdoctoral Fellow Award, supported by the National Breast Cancer Foundation.
Ms Nolan received the award for her discovery that an existing medication may prevent breast cancer in women who carry the BRCA1 risk gene, which she presented at the recent kConFab Familial Aspects of Cancer conference.
Dr Sarah Hosking, CEO of the National Breast Cancer Foundation, congratulated Ms Nolan for her achievement and outstanding research.
"Emma is one of Australia's best and brightest in breast cancer research," said Dr Hosking. "Her work is actively contributing to the development of new and better methods to prevent breast cancer for women who carry breast cancer susceptibility genes."
"The National Breast Cancer Foundation supports many aspects of research across the prevention, spread and treatment of breast cancer and we are proud to support Emma in her career development," she continued.
The award provides a $5,000 travel grant to Ms Nolan that will enable her to attend an international cancer research conference.
Ms Nolan said the opportunity to present her latest research discoveries to an international scientific audience would provide valuable opportunities to advance her career. "Breast cancer research is a global endeavour, and it is important that researchers working in Australia have the opportunity to develop international networks," she said. "As a PhD student, I am very grateful to the National Breast Cancer Foundation's assistance to further my career through this travel award."
Professor Jane Visvader, who jointly leads the Institute's breast cancer research program and supervises Ms Nolan with Professor Geoff Lindeman, said the National Breast Cancer Foundation's support had been essential for advancing breast cancer research at the Institute. "For nearly two decades we have been focused on understanding how the normal process of breast cell development and function is corrupted to allow breast cancer development," she said.
"Emma's research has pinpointed the cells that cause breast cancer in certain women with high genetic risk, and importantly has underpinned new clinical trials aimed at preventing breast cancer in these women. The support of the National Breast Cancer Foundation has been crucial at many stages of our research journey to this point, and we are thrilled that the foundation is now able to support Emma's future research," Professor Visvader said.
Professor Lindeman said he and Professor Visvader were delighted that the new award recognised the pioneering work of Professor Joe Sambrook. "Joe's role in establishing the kConFab familial breast cancer consortium, and catalysing familial cancer research in Australia has reaped huge benefits for Australian research," he said. "We have enjoyed wonderful interactions with Joe over the years. Our research program has directly benefited from this consortium, including Emma's project which could not have been possible without kConFab."
In addition to support from the National Breast Cancer Foundation, Ms Nolan's research has been supported by Cancer Council Victoria, the National Health and Medical Research Council, the Australian Cancer Research Foundation, the Qualtrough Cancer Research Fund, the Joan Marshall Breast Cancer Research Fund, the Cancer Therapeutics Cooperative Research Centre, an Amgen Preclinical Research Program Grant, the Victorian Cancer Agency, and the Victorian Government Operational Infrastructure Support Scheme.
The Walter and Eliza Hall Institute is the research powerhouse of the Victorian Comprehensive Cancer Centre, an alliance of leading Victorian hospitals and research centres committed to controlling cancer.
About the National Breast Cancer Foundation
 
The National Breast Cancer Foundation (NBCF) is the only national body that funds life-changing breast cancer research with money raised entirely by the Australian public. Breast cancer is the most common life-threatening cancer facing Australian women, with eight women dying from the disease each day — mothers, sisters, wives, daughters and friends.
 
Research is the only way to prevent deaths, and improve how breast cancer is diagnosed, managed and treated. By funding only world-class research, NBCF is working towards a goal of zero deaths from breast cancer by 2030.
For more information:
Arunee Wilson
Media and Publications Advisor
P: +61 3 9345 2719
M: +61 478 714 757
E: wilson.a@wehi.edu.au