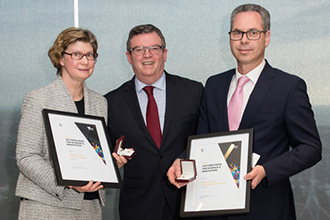 Breast cancer researchers Professors Jane Visvader and Geoff Lindeman, who jointly lead the Walter and Eliza Hall Institute's ACRF Stem Cells and Cancer division, have been awarded the 2017 Victoria Prize for Science and Innovation in the Life Sciences.  
The $50,000 prize celebrates the researchers' two-decade commitment to cancer research, involving landmark discoveries in how breast cancers arise and could be prevented and treated.  
Minister for Innovation and the Digital Economy Philip Dalidakis congratulated the winners.
"We're supporting our innovators because they help our economy – their discoveries and new ideas will create the jobs and industries of the future," he said.
Institute director Professor Doug Hilton said the scientists were pioneers in their field and responsible for advancing research throughout many years of dedicated work. 
"Geoff and Jane, along with their teams, have made crucial discoveries describing both healthy breast development and how errors within this process can lead to cancer," Professor Hilton said.  
"Most recently, their efforts were instrumental in discovering that a new class of anti-cancer drugs, when combined with existing drugs, could potentially supercharge treatment for some of the most aggressive types of breast cancer.  
"The researchers also identified the cells that give rise to breast cancer in women who carry a faulty BRCA1 gene and that an existing medication for osteoporosis could provide these patients with a non-surgical option for cancer prevention.  
"Their dedication to breast cancer research since 1997 is now benefiting women in Victoria through early phase clinical trials," he said.  
Professor Visvader acknowledged the importance of team-work. "Geoff and I really have been very fortunate to work with exceptionally talented teams of scientists and collaborators. This award reflects their hard work and commitment," she said.  
Professor Lindeman, also a medical oncologist at the Royal Melbourne Hospital and Peter Mac, said that sustained State Government support had helped to progress fundamental discoveries from the laboratory through to the clinic.
"Victorian Government support has over the course of our careers helped to advance basic research from the bench to the bedside," Professor Lindeman said.
"Jane and I are passionate about developing more effective targeted therapies for the treatment and prevention of breast cancer.
"We are humbled to receive this award, which highlights the importance of long-term investment in basic and translational research to improve the lives of people affected by cancer," he said.  
Professors Visvader and Lindeman's research is supported by the National Health and Medical Research Council, the Victorian Cancer Agency, Victorian State Government Operational Infrastructure Support Program, the Australian Cancer Research Foundation, National Breast Cancer Research Foundation, Qualtrough Cancer Research Fund, Joan Marshall Breast Cancer Research Fund and Rotary Club of Point Gellibrand.
Media enquiries
M: 0475 751 811
E: communityrelations@wehi.edu.au