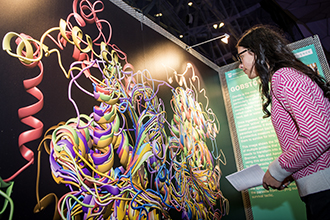 The Institute's annual Art of Science exhibition opens today with stunning images and videos captured by our researchers who are tackling some of the biggest challenges facing global health.
Taking place during National Science Week, the Art of Science exhibition runs from 10 – 19 August 2018 at Melbourne's Federation Square. The experience shines a light on biomedical exploration and discovery across the vast and complex research areas of cancer, infectious diseases and immune disorders.
'Backstage pass' into the lab
See how blood vessels sprout from a piece of bone grown in the laboratory; watch breast cancer cells 'caught on camera' as they attempt to run riot in other parts of the body; and be unsettled by a writhing parasite 'playground' captured under the microscope with an iPhone.
Director of the Institute, Professor Doug Hilton said Art of Science was like a 'backstage pass' into the laboratory revealing how medical researchers worked to better understand, prevent and treat disease.
"The images and videos in our Art of Science exhibition provide magnificent insight into the challenges our researchers are working to address – whether that's stopping aggressive cancers from spreading in the body; finding ways to outsmart the malaria mosquito; or pinpointing what is going awry in development where birth defects such as spina bifida and cleft palate occur," Professor Hilton said.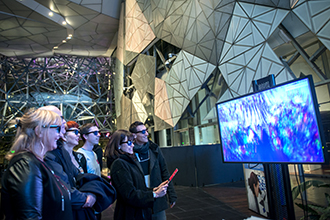 Professor Hilton said the exhibition offered a unique opportunity for the public to grasp how rapid advances in medical imaging technology were enabling researchers to visualise the unseeable in impressive detail.
"Visitors to the exhibition get the chance to see what blood vessels look like when they form conduits that transport food, oxygen and germ-fighting immune cells throughout the body. They'll also be able to 'fly through' breast tissue among other captivating movies produced in 3D by our moving image in science winner Caleb Dawson," Professor Hilton said.
A time-honoured competition
The Art of Science exhibition is also a showcase of 20 finalists from the Institute's annual Art of Science competition, which was founded in 1997 by former Institute director Professor Suzanne Cory.
This year, our panel of judges is from Museums Victoria and includes CEO Lynley Marshall; Senior Curator for Human Biology and Medicine Johanna Simkin; and Collections Curator for Engineering Matilda Vaughan.
"My selection was made on the basis of artistic appeal, representation of subject matter and the degree to which the image engaged me with the subject," Ms Marshall said.
Congratulations to Art of Science 2018 winners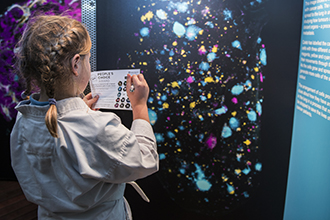 Art of Science still image category
Winner: Gobstopper by Brendan Ansell, Balu Balan and Aaron Jex
2nd place: Starry starry night by Francine Ke
3rd place: Creature of the deep by Zoe Grant
Moving Image in Science category
Winner: Breast cancer exploration by Caleb Dawson
2nd place: Generations of danger by Justin Muir and Tom Weber
3rd place: The big bang by Carolyn de Graaf and Christine Biben
The public also get to have their say. Visitors to the exhibition are invited to vote for their favourite image in the ever popular People's Choice Awards for the chance to win a framed print of their choice.
Behind the scenes with our winners
Exhibition information
Art of Science – discover the beauty in medical research
10–19 August 2018, 10am–6pm daily
The Atrium, Federation Square, Melbourne
Entry is free
Institute staff and scientists will be in The Atrium at Federation Square between 10am-6pm throughout the exhibition period, to show visitors around and answer questions.
Media enquiries
M: +61 475 751 811
E: communityrelations@wehi.edu.au