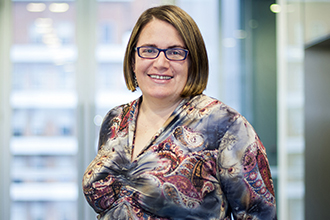 A clinician PhD student at the Walter and Eliza Hall Institute has won the inaugural Australian Medical Association (AMA) Doctor in Training of the Year award for her work in the care of fellow doctors.
Dr Ruth Mitchell, who is also a neurosurgical registrar at the Royal Melbourne Hospital, has won the award for her "tireless pursuit of doctors' wellbeing" and "high quality care through advocacy, education and research".
Her citation reads: "No matter the time of night or how little sleep she has had, Ruth is never too busy to take time to teach junior colleagues about neurosurgical assessment and management principles to the benefit of not only the patient before them, but those who will come after.
"She is also well known for taking time to mentor junior colleagues, and standing up for trainees in difficult working situations while maintaining the respect of her senior colleagues – a fine balance to strike."
The AMA award recognises "outstanding achievement in leadership and advocacy and encourages further development of leadership skills".
Dr Mitchell said throughout her medical training and career she had been passionate about the wellbeing of the medical community.
"As doctors we would walk over hot coals for our patients, but looking after ourselves and each other seems to be more challenging. By looking after our colleagues we strengthen the profession, and ultimately, that is what is best for our patients too." Dr Mitchell said.
"We need strong support mechanisms, particularly for doctors in training, and we need to break down the barriers to accessing help. We also need better structures in training, ones which encourage genuine diversity and value the contributions of each person. Our patients deserve nothing less."
Institute director Professor Doug Hilton congratulated Dr Mitchell on her award and said it was "a well-deserved achievement".
Dr Mitchell, who is undertaking her postdoctoral study in the Institute's Structural Biology Division, will receive a place in the AMA Future Leaders Program.
For more information:
Ebru Yaman
Media and Publications Manager
M: 0428 034 089
E: ebru.yaman@wehi.edu.au