Walter and Eliza Hall Institute stomach cancer researcher Dr Lorraine O'Reilly credits a recent boost in funding from Cancer Council NSW to the support she's received from people with stomach cancer and their carers.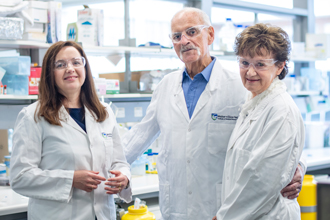 The $450,000 funding over three years will enable Dr O'Reilly to progress her research into the causes of stomach cancer – research that she hopes will lead to better treatments for this disease.
At a glance
Stomach cancer researcher Dr Lorraine O'Reilly has received funding from Cancer Council NSW.
Dr O'Reilly credits the positive outcome to the support she has received from 'consumers' – patients or carers who have been impacted by disease.
The funding will help to progress research to better understand and identify new treatments for stomach cancer.
Invaluable consumer involvement
Stomach cancer is the third-highest cause of cancer-related deaths worldwide. In Australia – where more than 2000 cases are diagnosed each year – most cases are detected at late, hard-to-treat stages, when treatment options are currently very limited.
Dr O'Reilly said people impacted by stomach cancer – also known as 'consumers' – have played a vital role in guiding her research to better understand and treat stomach cancer.
"Working closely with a cancer survivor and two carers over the last five years, I've gained unique insights that have helped to advance my research in stomach cancer," Dr O'Reilly said.
Bringing personal experience to research
Mr Frank Graham is a rare stomach cancer survivor who underwent surgery to remove his stomach followed by chemotherapy and radiotherapy. 
Dr O'Reilly said that Frank and his wife and carer Ronnie's articulation of their experience have inspired her to focus on developing new treatments for stomach cancer.
"Frank and Ronnie conveyed to me the importance of considering current issues for stomach cancer patients, such as early diagnosis and more effective targeted treatments," she said.
"This feedback influenced my study design in defining molecular markers specific for different stages of stomach cancer, since such insight may help to reveal new therapeutic opportunities," she said.
Dr O'Reilly said that her consumer collaborators had also provided consultation for her grant application to Cancer Council NSW.
"Along with Mrs Debra Clements, who nursed her husband through cancer, Frank and Ronnie provided invaluable feedback on my grant application, helping me to secure the essential support needed to continue my research."
In addition to helping medical researchers 'on the ground', Dr O'Reilly said it was great to see that consumers were increasingly playing a key role in the decision-making process for research funding.
"Cancer Council NSW's funding decision-making model is now equally balanced between government and consumer advice," she said. 
"After the government's National Health and Medical Research Council (NHMRC) scores potential grant recipients, those that are considered eligible for funding but not actually funded are then reviewed by the Cancer Council NSW's Consumer Review Panel.
"I think these are really positive moves that reflect just how important personal perspectives are in medical research," Dr O'Reilly said.
Support to progress vital work
At present in Australia, only around 30 per cent of people with stomach cancer will survive beyond five years – a statistic that is worse than for people with many other common cancers.
Dr O'Reilly said the high mortality rate called for urgent research to investigate how stomach cancer developed in order to understand how best to stop it in its tracks. 
"Tailored therapies based on genetic profiling of tumours are still in an early phase," she said.
"The research funded by Cancer Council NSW aims to advance tailored, personalised therapies. The potential outcome of our research would be the implementation of new therapeutic approaches for stomach cancer.
"I am deeply grateful to my consumer collaborators and to Cancer Council NSW for providing the essential support required to advance this important research," she said.
Media enquiries
M: +61 475 751 811
E: communityrelations@wehi.edu.au