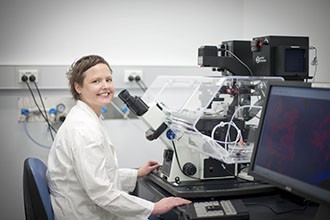 Scientists from the Walter and Eliza Hall Institute have been awarded more than $2.2 million from the Australian Research Council (ARC) to improve treatments for immune disorders and inflammatory diseases.
Three Institute researchers – Dr Joanna Groom, Dr Rhys Allan and Dr Ueli Nachbur – were announced last week as recipients of ARC Future Fellowships. They will use the funding to study how the body controls errant immune cells that cause type 1 diabetes or coeliac disease, and the cell signalling pathways involved in the immune response and inflammatory diseases such as asthma and Crohn's disease.
Dr Joanna Groom from the Institute's Molecular Immunology division said her $718,000 grant would allow her to investigate how the body's immune cells work together to fight invading viruses or bacteria. "We have shown that a cell surface protein called CXCR3 controls cooperation between immune cells, and determines how the immune response develops during infection," Dr Groom said. "By understanding how immune cells interact and coordinate during the immune response, we could in the future develop new, more 'targeted' vaccines or drugs to treat cancers or viral infections."
Dr Rhys Allan, also from the Institute's Molecular Immunology division, received a $755,000 grant to examine how changes to the genetic material in the immune system's T cells can cause them to go awry and attack normal body tissues or become hypersensitive. These abnormal T cells can cause autoimmune disorders such as type 1 diabetes and allergies such as asthma.
"In this project we will trace the genetic changes that occur as T cells develop and function during a normal immune response," Dr Allan said. "This will help us to develop therapies that are designed to 'rewire' harmful T cells so that they stop attacking the body."
Dr Ueli Nachbur from the Institute's Cell Signalling and Cell Death division was awarded $731,000 to investigate the cell signalling pathways that are involved in inflammatory diseases such as Crohn's disease.
"Understanding the fundamental biology of immune cell signalling pathways can help us to identify potential drug targets for diseases where these normal pathways are disrupted, such as asthma and Crohn's disease," Dr Nachbur said. "The ARC Future Fellowship will allow me to further explore a pathway that we know is deregulated in a number of inflammatory diseases and test whether existing drugs that block some of the molecules in this pathway can help to treat these conditions."
Institute director Professor Doug Hilton said the ARC Future Fellowships provided crucial support for mid-career researchers. "The Future Fellowships scheme enables the best and brightest researchers to continue to work in Australia and make discoveries that will boost Australian innovation," Professor Hilton said. "Joanna, Rhys and Ueli are great young scientists whose work will help in the search for better treatments for immune and inflammatory diseases."
ARC Future Fellowships promote research in areas of national importance by giving outstanding researchers incentives to conduct their research in Australia. The ARC this year awarded 201 Future Fellowship grants worth $152 million.
Further information:
Alan Gill
Science Communications Officer
P: +61 3 9345 2719
E: gill.a@wehi.edu.au