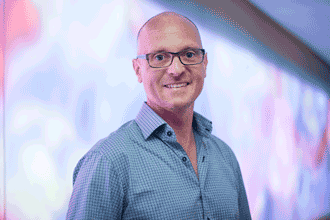 The latest scientific understanding of how the sun influences genetic code is the subject of a newly-released biomedical animation.
Vitamin D penetrates a molecular landscape that exists in all of us, and 'switches on' surprising processes, like the making of proteins that strengthen our bones.
The culmination of a dozen scientific publications, Sunshine Vitamin is launched today through the Walter and Eliza Hall Institute's science animation channel: WEHI.TV, as well as on Apple's iTunes U. The animation is part of a series designed to explain complex scientific processes easily to a broad audience.
Emmy Award-winning biomedical animator Drew Berry is the man behind the magnification. Mr Berry said Sunshine Vitamin reveals molecules in the body which, being smaller than the wavelength of light, are impossible to film and difficult to imagine.
"Sunshine Vitamin, along with the other striking biomedical animations produced through WEHI.TV, gives people an intuitive understanding of the remarkable activity occurring in the body's cells and tissues," Mr Berry said.
For over 20 years at the institute, Mr Berry has been dedicated to explaining discoveries from medical research in a way that is engaging and easy to understand.
"As a trained cell biologist, I'm fluent in the language of science. With my animations, I act as an interpreter for medical research, and as an artist I'm constantly inspired by incredible discoveries," he said.
"WEHI.TV is about sharing what is happening at the frontier of medical research in an accurate and entertaining way," Mr Berry said.
Employing visual tricks from cinema, Mr Berry carefully builds his animations.
"I use colour to pull people through the narrative and to evoke feeling: 'healthy' is usually a palette of pinks and reds because as mammals we associate warm tones with being alive," he said.
Mr Berry also hits the road to present WEHI.TV animations like Sunshine Vitamin to schools and universities throughout Victoria. He recognises a strong demand in the community for meaningful information – especially around complex scientific topics and where health issues are concerned.
"WEHI.TV animations work extremely well as a communication tool for science as they are like a powerful microscope into the body, allowing people to appreciate at the most intricate level, what we are all made of," Mr Berry said.
Media inquiries:
Arunee Wilson
Media and Publications Advisor
P: +61 3 9345 2719
M: +61 478 714 757
E: wilson.a@wehi.edu.au