WEHI's Dr Stephin Vervoort has received a prestigious fellowship from the Snow Medical Research Foundation in Australia to investigate new treatment options for cancers such as leukaemia.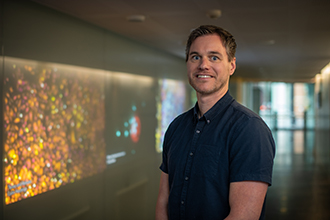 Dr Vervoort is one of three Snow Fellows recognised as this year's emerging biomedical research leaders, each receiving $8 million to further their projects.
His research aims to understand how cells in the body send vital messages to the correct place, at the right time. Known as 'transcription', this process is driven by the enzyme RNA Polymerase II (RNAPII). While RNAPII's control of these messages is necessary for everyday function, diseases such as cancer can occur when this control is lost. Dr Vervoort's ultimate goal is to create drugs that prevent these important cellular processes from malfunctioning. This could lead to new drug treatments for hard-to-treat cancers including acute myeloid leukaemia (AML).
Now in their third year, the Snow Fellowships are the biggest philanthropic investment in Australia fostering upcoming and talented biomedical researchers. The initiative is also used to develop world-leading teams based in Australia's pioneering research institutions.
At a glance
Dr Stephin Vervoort has been named as one of Australia's three Snow Fellows in recognition of research to discover new treatment options for cancers with poor survival rates, including AML.
He will use the $8M of funding granted to explore how malfunctions in the enzyme RNAPII fuel aggressive cancer growth in order to prevent RNAPII from going rogue.
The Snow Fellowships are a significant investment in emerging biomedical research leaders, representing a long-term vision of backing Australia's brightest young researchers.
Decoding the 'messenger factory'
Dr Vervoort – who has spent more than a decade studying the enzyme RNAPII – said his aim was to understand how RNAPII controls cellular messaging, and how the disruption of this process contributes to cancer.
"Imagine sending text messages that continually go to the wrong person, or don't arrive on time, and how much havoc that would create.

"It's like that in cancer – cells malfunction when the messages they are meant to receive arrive too late or when the wrong message is sent. The havoc this creates in our bodies' cells can fuel aggressive disease.
"My research aims to understand how the so-called 'messenger factory' driven by RNAPII works in a cancer setting and what we can do to stop the messages from going awry. My goal is to create novel drugs that target the malfunctioning RNAPII machinery in order to improve patient outcomes."
Philanthropic endeavours
Since the initiative began three years ago, the Snow Medical Research Foundation's Snow Fellowships have contributed $70 million in funding to support early-to-mid-career scientists with their research endeavours.
WEHI director Professor Doug Hilton AO said the Snow Fellowship program was one of the most competitive in the world and that it would allow Dr Vervoort to accelerate his efforts to make fundamental discoveries in cancer research.
"We are excited to have Stephin join WEHI as a lab head this year and continue his ambitious and important pursuit of finding enhanced treatment options for cancers that are incredibly difficult to treat," Professor Hilton said.
"The Snow Fellowship will enable Stephin to pursue his research with the confidence and security needed to create meaningful outcomes. The path from exploring an idea to having real-life implications for people takes years of research, patience and sustained effort. Fellowships like this give researchers the opportunity to make significant scientific discoveries to improve health outcomes for people in Australia and around the world. That is the power of philanthropy."
Fostering international talent
Dr Vervoort hopes to use the Snow Fellowship to fast-track transformative discoveries and create a lab that attracts talented scientists from around the world to Australia.
"When I came to Australia six years ago, I had nothing but a PhD in my pocket," Dr Vervoort said.
"This country has a great scientific landscape, with world-class institutions and experts in all fields, which has helped me thrive in my career. I endeavour to give back to the community by creating a lab that brings together the brightest minds from across the globe to pursue their scientific dreams in Australia. I am incredibly grateful for the opportunity provided by the Snow Fellowship and for the support shown by the Snow Medical Research Foundation and Snow Family."
---
Media enquiries 
M: +61 475 751 811
E: communityrelations@wehi.edu.au