A $4.6 million grant from global charity the Wellcome Trust will accelerate the search for much-needed new medicines for malaria, a disease that kills almost half a million people worldwide each year, especially young children and pregnant women.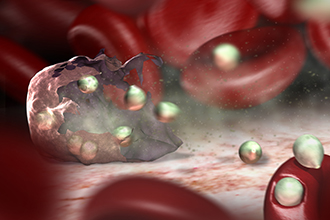 The funding grant will support a collaborative team of researchers from the Walter and Eliza Hall Institute and biopharmaceutical company Merck & Co., Inc., Kenilworth, NJ USA, known as MSD in Australia, to identify and investigate 'drug-like' molecules for treating malaria.
The new treatments will be targeted at the deadliest forms of the malaria parasite, Plasmodium falciparum and P. vivax.
At a glance
New treatments for malaria are urgently needed, as this mosquito-borne disease is rapidly developing resistance to existing medications
The two-year, $4.6 million ($US3.6 million) Wellcome Trust funding will accelerate the search for new antimalarial drugs
Researchers from the Walter and Eliza Hall Institute and MSD scientists will investigate drug-like molecules for treating the deadliest forms of malaria
The search for new antimalarial drugs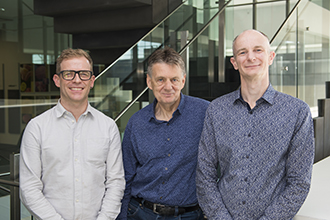 Half of the world's population was at risk of contracting malaria, said Professor Alan Cowman, who is leading the research project at the Walter and Eliza Hall Institute with Associate Professor Justin Boddey and Dr Brad Sleebs. 
"Current strategies to control, and possibly eliminate, malaria rely on effective treatments. However in the past three decades we have seen the emergence of parasite strains that are resistant to commonly used drugs," Professor Cowman said.
Professor Cowman said the team had already discovered drug-like molecules, created by MSD, that prevented P. falciparum parasites growing in red blood cells.
"The Wellcome Trust support will allow us to modify these molecules to increase their potency and selectivity against the parasite and test them against all parasite lifecycle stages. In two years we aim to generate new compounds that have appropriate properties that will allow them to undergo preclinical and clinical testing as potential new antimalarial drugs," he said. 
Dr Sleebs said the candidate antimalarial molecules would be further evaluated for safety and efficacy in preclinical models. "An important part of the project is that we will look ahead and try to understand how difficult it will be for the parasite to develop resistance to the candidate drugs, and why resistance develops. In the past we've seen resistance to some anti-malarial drugs emerge in less than a decade, so we want to ensure any new drugs we develop will be effective in the longer-term," Dr Sleebs said.
Any potential antimalarial drugs discovered by the collaboration would be further investigated through clinical trials before potentially being available for use.
Building on research expertise
The project is built on research discoveries by Institute researchers, showing a protein called plasmepsin V was essential for the malaria parasite to grow within human red blood cells.
"We recognised that plasmepsin V was an attractive drug target for malaria, in part because of its similarity to other proteins, called aspartyl proteases, that have been successfully targeted by drugs," Associate Professor Boddey said.
"New antimalarials will need to be a combination of therapies in one tablet that kill the parasite at multiple stages of its lifecycle. The Wellcome Trust funding has enabled us to hunt for drug-like compounds that kill the blood, liver and mosquito stages of the malaria parasite and then further improve their activity through our collaboration with Merck, who have a formidable track record in developing drugs."
For more than 80 years, MSD has contributed to the discovery and development of novel medicines and vaccines to combat infectious disease.  
The project relies on the Walter and Eliza Hall Institute's expertise in malaria biology, drug discovery and structural biology.
"We have a 40-year history of malaria research at the Institute, and have made many important discoveries in this time, building up teams of experts and collaborators needed to advance our research," Professor Cowman said.
The Institute acknowledges the important role of the BIO Ventures for Global Health (BVGH) Partnership Hub in encouraging and supporting the joint application by the Institute and MSD for Wellcome Trust funding.
Find out more about the Wellcome Trust
Media enquiries
M: +61 475 751 811
E: communityrelations@wehi.edu.au