The Walter and Eliza Hall Institute will host a Cell Death: Discoveries to Drugs symposium on 13 February 2017 to celebrate the three decades of collaborative research underpinning venetoclax, an Australian approved anti-cancer treatment.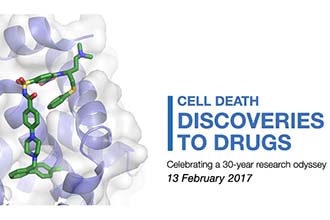 Institute director Professor Doug Hilton AO said the symposium would highlight major research milestones in the venetoclax journey – including the discovery of the protein BCL-2's crucial role in promoting cancer cell survival – as well as look ahead to the latest developments in cell death research.
 
"The symposium reflects the Institute's strong history and commitment to cell death research with an emphasis on how understanding cell death could shape future treatments," Professor Hilton said.
Parliamentary Secretary for Medical Research and symposium keynote speaker Mr Frank McGuire said the Victorian Government strongly supported innovations in medical research that not only advanced the health healthcare outcomes of patients but strengthened Victoria's capabilities as a medical research and technology powerhouse.
"Victoria is leading the country in medical technology and research, so it's no surprise some of the world's best treatments are cultivated right here. The collaboration and coordination seen in the venetoclax is the perfect example of our world-class researchers," Mr McGuire said.  
Professor Hilton said collaboration was crucial to translational research where discoveries made at the bench had the potential to become life-changing treatments.
"Our international partnerships as well as our local partnerships with the Royal Melbourne Hospital and the Peter MacCallum Cancer Centre have led to a drug that can now treat patients with certain types of chronic lymphocytic leukaemia, in Australia, the United States and the European Union.
"The Discoveries to Drugs symposium highlights the caliber and value of Victorian medical research to our communities and looks back on a journey, involving many dedicated researchers, that has harnessed the power of scientific collaboration in Australia and across the world," Professor Hilton said. 
The Cell Death: Discoveries to Drugs symposium will be held across two sessions on 13 February 2017 at The Walter and Eliza Hall Institute (Davis Auditorium), 1G Royal Parade, Parkville, Victoria.
Session 1 will run from 9.30am – 1:20pm with the Institute's leading cell death researchers discussing new frontiers in cell death research and the impact on future treatments. 
Session 2 will run from 2.30pm – 5:00pm with Institute researchers and international collaborators reflecting on the 30-year journey from the landmark discovery of the function of the BCL-2 protein through to a new anti-cancer treatment.
For more information contact the Institute's media team: 
Ph: +61 3 9345 2971
Mob: +61 475 751 811