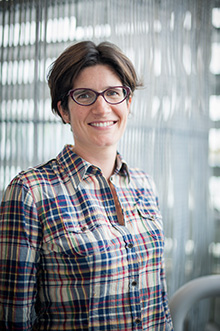 Lung researcher Dr Marie-Liesse Asselin-Labat has won a competitive $1.225 million Viertel Fellowship for an ambitious research program to advance our understanding of lung development and cancer.
The funding will help to develop better treatments for premature babies with critically underdeveloped lungs, as well as children and adults with lung disease, including cancer.
Dr Asselin-Labat from the ACRF Stem Cells and Cancer division was the successful recipient of one of two fellowships announced today by the Sylvia and Charles Viertel Charitable Foundation.
In 2015 the foundation established a gender equity approach to their grants, specifying that one male and one female researcher be the recipient of the awards. The Viertel Senior Medical Research Fellowships are now awarded to one male and one female mid-career scientist whose medical research shows great promise for the future.
Dr Asselin-Labat's research addresses some of the most critical issues in lung development, repair and cancer. The findings will help explain what happens in underdeveloped lung in premature infants, how to improve lung repair after injury or disease, and identify better markers/drug targets to detect or treat lung cancer more effectively.
The five-year fellowship will support Dr Asselin-Labat in her research of the key regulators of lung stem cells and cancer. "My research is dissecting the biological processes that form the lung during embryonic development and the role and maintenance of stem cells in the adult lung," she said.
Among Dr Asselin-Labat's long-term goals is the development of better treatments for premature babies. "One of the most critical problems in premature babies is acute respiratory distress and that can lead to chronic lung disease," she said. "Unfortunately, there is still a lot we need to do to improve treatment for babies that are born prematurely with underdeveloped lungs.
"By better understanding how the lungs develop and the critical genes responsible for development and repair, we will be able to see new treatments emerge that help these children to survive and avoid the long-term respiratory problems that often plague their later years."
Walter and Eliza Hall Institute director Professor Doug Hilton said Dr Asselin-Labat was one of Australia's brightest young scientists.
"Marie-Liesse is emerging as one of Australia's young leaders in medical research and is building a national and international reputation in the stem cell and cancer research field," Professor Hilton said. "She has had an outstanding career to date and she is a very worthy recipient of this award. I also welcome the commitment of the trustees and foundation in taking positive steps to address the imbalance seen at the more senior levels of science, by recognising and supporting remarkable young women in science to continue their careers."
Dr Asselin-Labat began her research in breast stem cells and cancer, and her research findings included a discovery that explained how oestrogen and progesterone are linked to increased risk of breast cancer. She was also part of the research team that first identified breast stem cells and their 'daughter' progenitor cells. She is now using this strong background to further understanding of lung stem cells, their involvement in 'normal' development, and how they can go awry in cancer.
Ms Tabitha Lovett, General Manager of Philanthropy at Equity Trustees, which manages the Sylvia and Charles Viertel Charitable Foundation, said the foundation had now awarded 40 Senior Medical Research Fellowships in the past 20 years. "The trustees are proud to ensure the foundation retains its focus on promoting the pursuit of excellence in scientific research by supporting young researchers at a critical time in their careers," she said. "Equity Trustees is proud to manage the foundation, with our fellow trustees, and proud to commit to taking action to make gender equity a part of what it stands for in science."
Further information
Liz Williams
Media and Publications Manager
E: williams@wehi.edu.au
M: 0428 034 089