WEHI president Jane Hemstritch AO has today announced that director Professor Doug Hilton AO will be stepping down from his role. 
The WEHI board has accepted Professor Hilton's decision not to undertake another term as director when his current contract finishes next year, after almost four decades of unwavering dedication to WEHI and 14 years as director. 
At a glance 
Professor Doug Hilton AO will not undertake another term as WEHI director when his current contract finishes in mid-2024. 
Professor Hilton has spent 37 years at WEHI, including 14 years as director. 
Impact, innovation and progressive leadership are the hallmarks of Professor Hilton's legacy as WEHI's sixth director.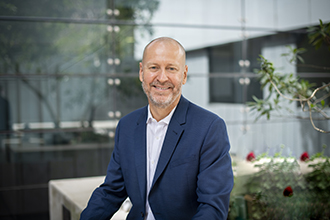 WEHI president Jane Hemstritch said the board was deeply grateful to Professor Hilton for his impact and achievements as a progressive and widely respected leader. 
"Since his appointment as director in 2009, Doug has overseen the expansion of the institute and the alignment of its research activities with the most important health concerns of the community," she said. 
"Collaboration has been a hallmark of his directorship, resulting in diverse and inclusive high-performing teams of scientists and professionals that amplify and extend WEHI scientific discovery into the wider medical research sector and into local, national and international communities. 
"He has ushered in a new era for WEHI that embraces fundamental research, translation and commercialisation, and he has strengthened links with other health, research, philanthropic and educational organisations.
"Doug's directorship has been characterised by tackling complex health problems and by being unafraid to address important issues that have an impact well beyond the WEHI walls.   
"His determination to create a workplace where all people flourish professionally and personally, including elevating gender equality and diversity, has ensured that WEHI is an adaptive and inclusive workplace.  
"On behalf of the board I'd like to recognise and thank Doug for his commitment and passion. 
"After 14 years of exceptional leadership, the WEHI community is ready to build boldly upon Doug's outstanding legacy, with confidence that the high standards, strong collaborative culture, quality and ethical integrity of the research on which WEHI has built its reputation over more than 100 years will continue well beyond his departure."
Outstanding legacy 
Professor Hilton, who is the inaugural head of The Brain Cancer Centre and the Lorenzo and Pamela Galli Chair in Medical Biology, began his research career at WEHI and the University of Melbourne in 1986.  
As director of WEHI since 2009, he has championed major initiatives including the establishment of the National Drug Discovery Centre, The Brain Cancer Centre and the Centre for Dynamic Imaging, as well as the Professor Lynn Corcoran Early Learning Centre – the first on-site childcare centre at an Australian independent medical research institute. 
He is a proud member of the Champions of Change Coalition, a board member of Australians Investing in Women and was on the Steering Committee of Science in Australia Gender Equity (SAGE). 
A passionate advocate for science and medical research, Professor Hilton was instrumental in leading the Discoveries Need Dollars campaign, which acted as the catalyst for the establishment of the Australian Government's Medical Research Future Fund, and serves on the Australian Medical Research Advisory Board of the MRFF and the NHMRC Research Committee.
As a researcher, Professor Hilton and his lab focused on blood cells, and were a part of a remarkable collaborative group that unravelled many of the secrets of how cells communicate. He has co-authored hundreds of scientific papers and has led many collaborations with industry to translate his discoveries into better treatments for diseases like asthma.
His achievements have been recognised in many ways including being elected as a Fellow of the Australian Academy of Science in 2004.
Professor Hilton said it had been an honour to serve as WEHI's sixth director over the past 14 years. 
"WEHI has been part of my life for almost 40 years, and having the opportunity to build on the achievements of the five outstanding directors who came before me has been an incredible privilege," he said. 
"I am deeply grateful to the board and my leadership team for their dedicated efforts in guiding and shaping the institute, and to all our passionate staff, students and supporters. 
"While this has been a difficult decision, I'm looking forward to my next chapter and to supporting WEHI in transitioning to its next chapter." 
A global search for Professor Hilton's successor will be overseen by an executive search consultancy.    
Media enquiries 
M: +61 475 751 811 
E: communications@wehi.edu.au